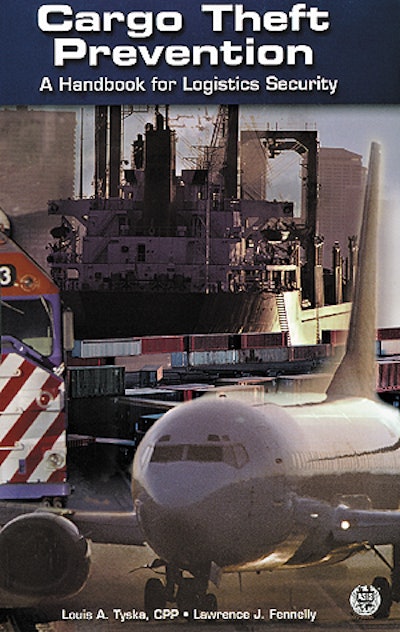 Two new books from the American Society for Industrial Security, Alexandria, VA, tackle the subject of cargo theft prevention in today's more dangerous world. The primary book, Cargo Theft Prevention, was co-authored by Louis A. Tyska, CPP, a consultant and chairman of the National Cargo Security Council, and forensics expert Lawrence J. Fennelly.
The second, Contraband, Organized Crime and the Threat to the Transportation and Supply Chain Function, has a title that's about as long as the parts of the book that directly pertain to packages in shipment. It was written by Mario Possami, president of FIA Intl. Research, Markham, Ontario, Canada, and underwritten by Brown & Williamson Tobacco, Louisville, KY.
However, for large international manufacturers, both books probably should be in the libraries for access by those individuals who design packaging or loads and those people who specify shipping methods and conditions.
The first book categorizes all the areas, from the warehouse to railcars and airfields, where container security needs to be re-examined. For the plant and the warehouse, the book offers tips to avoid "shrinkage," which is often used to describe employee pilferage. For example, the book explains that companies actually budget for a certain percentage of shrinkage. These reserves vary by type of store.
"In the conventional department store, reserves may be set up that provide for inventory losses of from 1.5 to 3% of the net sales," the book reports. "In the discount or mass-merchandising segment, these reserves usually range from 2 to 4%." Because the authors have had long careers in consulting, they offer tips on what management can and cannot legally do in terms of inspections.
Later in the book, the authors look at transportation security, including trackability, documentation, and dealing with a loss. But probably the most valuable part of the book for packagers is the section on security surveys and audits. Like so much of the book, this covers far more than checklists for individual packages and loads, so it takes some searching to find those activities where improvements affect packaging and load shipments.
Finally, a lengthy glossary completes the book and permits an understanding of the terms and abbreviations that are frequently used.
The second book is an exposition of why cargo thefts have become not only a big business, but one also appealing to organized crime. This book also delves into smuggling and counterfeiting. The author points out that organized crime exists throughout the world. "An international crime group might connect a group of workshops in China that produce counterfeit cigarettes with local crime groups in the West who supply their particular markets."
Thirty years ago, the book reports, high-value goods were subject to widespread pilfering because they were "packaged in cases or pallets for shipment ... Easy access encouraged the theft of electronics, appliances, clothes, engine parts, liquor, cosmetics and cigarettes from terminals (including warehouses, docks and transfer points) and during loading, unloading and shipment." The use of cargo containers originally reduced losses caused by pilferage, until crime groups began to steal the complete containers and obtained far more valuable goods.
The solutions part of this small study is limited to just a few pages and to generalities. But the anecdotes related in this report can forge an understanding of how these crimes finance not only crime groups but also terrorist organizations.
Cargo Theft Prevention
Authors: Louis A. Tyska, CPP, and Lawrence J. Fennelly
Specifications:
Pages: 400
Size: 9" x 6"
Softbound
Price: $55 ($45 for ASIS members)
Published: 2001
Pluses: The books detail the problems of cargo theft, smuggling and counterfeiting well. This book offers well-researched guidelines for adding more security to packaging and shipments.
Minuses: Cargo Theft is more of a reference book.
Bottom line: Excellent reference book, especially for makers of high-value products.
Contraband, Organized Crime, and the Threat to the Transportation and Supply Chain Function
Author: Mario Possami
Specifications:
Pages: 90 Size: 8½" x 11" Softbound
Price: $25 ($20 for ASIS members)
Published: 2002
Pluses: An easy-to-read book packed with anecdotes to make its points. Includes information on counterfeiting and smuggling.
Minuses: Short on practical solutions to the problems.
Bottom line: Together with Cargo Theft Prevention, the two books provide excellent references, especially for makers of high-value products.