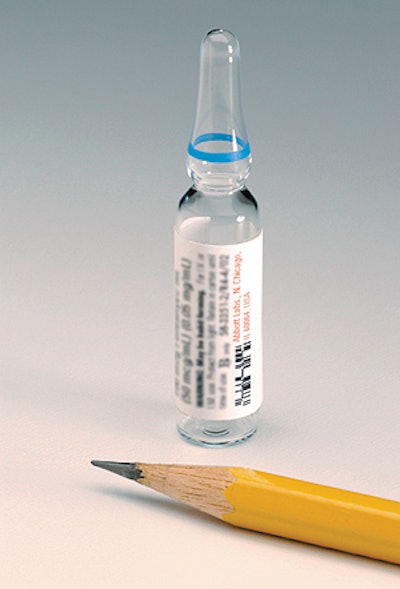 Brand-name pharmaceutical companies, who have been resisting putting bar codes on unit-of-use packages, ran up half a white flag at a workshop with the Food and Drug Administration on July 26.
Richard Johnson, director of information and policy at the Quality Center at Abbott Laboratories, Abbott Park, IL, who represented PhRMA, the drug manufacturers trade association, backed an incremental approach where manufacturers would put the national drug code (NDC) on all packages down to unit-of-use "where there is available space." Regarding small containers, he said drug companies might need the FDA to revise the amount of copy required on labels so that the space for a bar code can be cleared.
The possibility of a "phased-in" requirement for bar codes did not sit well with all manufacturers, some of whom are skittish about changing packages once to accommodate the NDC and then a second time, at some future date, to accommodate an expiration date and the lot number.
The National Coordinating Council on Medication Error Reporting and Prevention, which was set up by the FDA, issued recommendations in June 2001, backing inclusion of the NDC, lot/control/batch number and expiration date on drug bar codes. But the Council added that bar coding should be implemented "incrementally with careful planning and given thoughtful deliberation for cost, cultural and implementation issues."
Jen Allinson, a labeling department official at P&G Pharmaceuticals, Cincinnati, OH, said it would be onerous for her company to have to change packaging once to accommodate an NDC bar code and then a second time to add the expiration date and lot number.
OTC makers adamant
In contrast to this qualified acceptance of bar codes by the brand-name companies, over-the-counter drug manufacturers maintained a "Hell, no, we won't go!" attitude. A representative of the generic drug makers sounded both sympathetic and unenthusiastic in equal measures.
The meeting in a spacious auditorium on the campus of the National Institutes of Health was called to give the FDA input on the proposed rule on bar coding it intends to publish later. The FDA wants bar codes on drugs as a means of helping to reduce avoidable medical errors, such as when a nurse or a pharmacist mistakes one similar-sounding drug name for another.
While the FDA and others have been chiefly focused on getting bar codes onto drugs administered in hospitals, the agency is considering extending any bar code mandate to drugs used in nursing homes and those sold in retail pharmacies.
Lester Crawford, the deputy FDA commissioner, who had been acting as the agency's top dog quoted his boss, Health and Human Services (HHS) Secretary Tommy Thompson. Thompson has likened deaths from medical errors to "two passenger planes crashing every two days for a year." The implication was that the federal government wouldn't put up with the latter, so it shouldn't put up with the former.
Influencing by example
PhRMA and its individual companies know some sort of rule is coming, and they are trying mightily to influence its shape. Abbott's Johnson was apparently chosen to represent PhRMA at least in part because Abbott's hospital products division had announced two days before that it was committing to put bar codes on all its hospital injectibles and IV solutions by early this year. The company already has bar codes on 45% of its 1ꯠ-plus products in those two categories.
About one-quarter of all the bar codes will use Reduced Space Symbology (RSS) format that allows for miniaturized bar codes to be applied to unit-of-use packages as small as the cap of a pen. However, Abbott's commitment does not extend to its pharmaceutical division, which manufactures products such as the antibiotic Biaxin and the sedative Precedex. These will not be bar coded.
Johnson stressed that putting bar codes on drug products was mainly a packaging design question. He stated that he believed drug manufacturers could complete bar coding—using the limits he endorsed—"within two to three years." As for the cost, he noted that Abbott spent "tens of thousands of hours" on packaging design and implementation. He declined to put a price tag on those hours.
Other agendas
Johnson was careful not to endorse the bar coding agenda of some groups such as the American Society of Health Systems Pharmacists (ASHP). Kasey Thompson, director of the Center for Patient Safety at the ASHP, said he was concerned that if the FDA only initially requires the NDC on a bar code, the agency will never get around to adding the lot number and the expiration date to the requirement.
While PhRMA endorsed the incremental approach, William Soller, senior vice president of the Consumer Healthcare Products Assn., Washington, DC, said there was no need for a bar code on OTC drugs. He explained that the "Drug Facts" label tells consumers everything they need to know about how to use the drug safely at home.
Moreover, he pointed out that a bar code would be redundant since the consumer would have no way to use it anyway. Nor would bar codes help retail pharmacies get back drugs involved in a recall because OTC drug packages already display a uniform product code (UPC) bar code which serves that purpose.
But John Combes, senior medical advisor to the American Hospital Assn., said it might be "shortsighted" to avoid bar codes on OTC drugs sold at retail. In addition, he made it clear that hospitals want the OTC drugs they buy to have bar codes.
Soller noted that OTC manufacturers do not have "a segmented hospital market" and generally sell their drugs through distributors and repackagers, which then provide them to hospitals (and retailers). Stoller expressed a "willingness to deal" on the issue of OTC drugs destined for hospitals, but made it crystal clear that his companies want repackagers to take that responsibility.
Steven Bende, vice president of science, professional and regulatory affairs for the Generic Pharmaceutical Assn., noted that his members "don't want to move forward too quickly" in part because of the potential problems "our friends in the hospitals are worried about with regard to scanner technology."
Currently, just 1% of hospitals in the United States use scanners at the bedside, according to the ASHP's 1999 data. In part, the hospitals' hesitancy to purchase equipment stems from the fact that just 35% of unit-of-use packages received by hospitals have bar codes. All the scanners currently in use in hospitals are "linear" and have no trouble reading an NDC number, even if it is rendered in RSS. Small RSS bar codes can accommodate NDC, lot number and expiration date. Most linear readers can read those "composite" codes.
However, even small, composite RSS bar codes cannot fit on small packages. The bar codes have to be put in a two-dimensional data-matrix format. Linear readers, which use lasers, cannot read data-matrix bar codes. Only optical scanners can do that because they use cameras. But Combes said hospitals would staunchly oppose any FDA requirement that would force them to purchase optical scanners.
However, George Borowski, the Middle Atlantic regional manager for Hand Held Products, Inc. (Silver Spring, MD), said the optical scanners his company sells—which resemble the linear scanners used by nurses in hospital rooms—cost less than $400 and can read both linear and data-matrix bar codes.