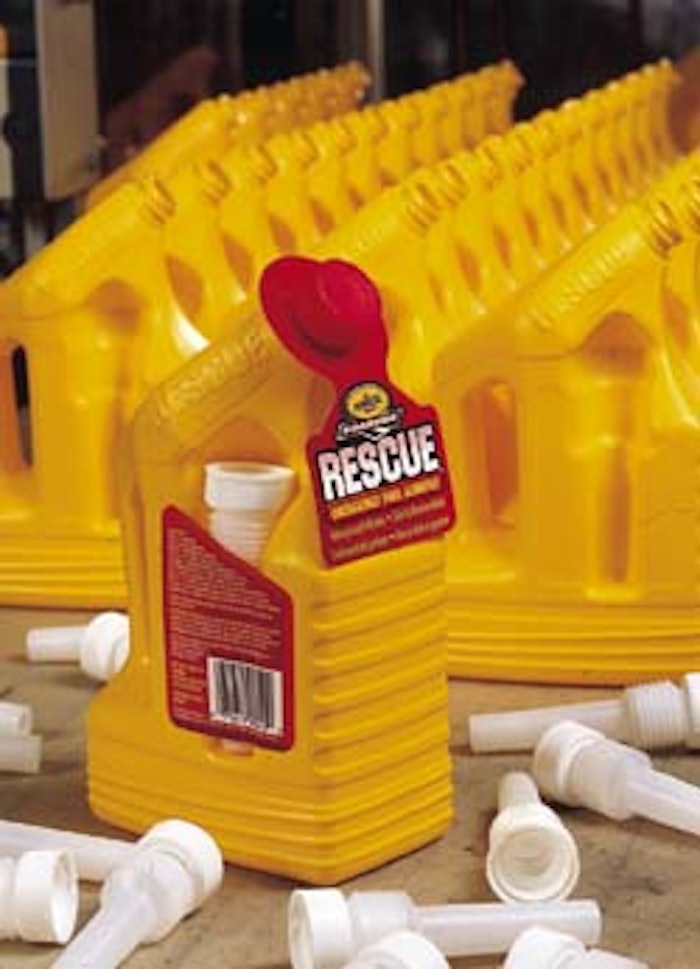 Developing a custom container typically requires at least a year. Not so for the new Rescue® container from Pennzoil-Quaker State. Even though it breaks new ground in blow molding technology, the container was completed in just six months, says blow-molding consultant Ed Campbell, a veteran of Clorox who worked on the project.
The distinctive half-gallon bottle is coextrusion/blow-molded of high-density polyethylene and fluorinated in the mold for barrier properties by Airopak Corp. (Manchester, PA). The flexible nozzle, secured in a bottle cavity and covered with a pressure-sensitive label, comes from Marpac Industries (Kingston, NY). These two companies make up the Specialty Products Div. of PVC Container Corp. (Eatontown, PA).
The product, marketed under Pennzoil's Roadside™ brand, is called an emergency fuel additive. "It isn't just a new product; it's a whole new product category," says James Postl, president and COO of Pennzoil-Quaker State in Houston. "It allays the primal fear of most motorists: running out of fuel."
With a patent pending, the product is a highly refined additive designed for when a car runs out of gasoline. Using the flexible nozzle attached to the bottle, the product can be emptied into a car's gas tank, and the car will be able to go about 10 miles to find a gas station.
But Rescue is much safer than simply a highly flammable spare tank of gas. It's formulated to have an exceptionally high flash point so that it's combustible only when exposed to the very high temperatures inside a motor. So says Alice Crowder, senior marketing manager for Pennzoil-Quaker State. That means it's safe, even rolling around in a car trunk for, believe it or not, up to five years. "After that," she says, "you just pour the product into your gas tank, and, hopefully, buy another [bottle of Rescue] for your car."
Lots of safety
While the product formulation is noncombustible, Pennzoil and its packaging partners worked very hard to make the package equally safe for the consumer. And it was precisely these packaging goals that made the package such a manufacturing challenge.
First off, Pennzoil desperately wanted a container that looked like the fill nozzle at a gasoline pump. That meant having a pouring neck with a 60° angle. And the container had to sport the famous Pennzoil yellow color. Instructions had to be provided on attractive but durable p-s labels.
Second, the container had to be leak-free, nonrefillable and able to withstand jostling around in a car trunk for up to five years.
Third, the container needed an easy-to-grip handle and had to be easy to open.
Fourth, it needed a removable but child-resistant and leak-proof cap.
Fifth, it had to incorporate a special neck and spout that would be easy to attach and use but also be extremely difficult to remove once attached to the bottle. It also had to accommodate the fill tanks of gasoline-powered cars, trucks, vans and even motor homes.
When these requirements were established in January '99, Pennzoil set its goal to introduce Rescue at an automotive trade show last November. Crowder and fellow Pennzoil senior research associate chemist Michael Howe spearheaded the project. Crowder worked on the container design and consumer testing, while Howe focused on product and package development.
However, the task of finding partners to provide the packaging proved both difficult and time-consuming (see sidebar, right). It wasn't until May that PVC Corp. and affiliates Airopak and Marpac were on board.
PVC's team approach
"We knew immediately that we needed to pull in the resources of at least three of our companies," remembers Phillip Friedman, president and CEO of parent company PVC Container Corp. "We quickly assembled our own team from three companies: packaging experts from PVC Container for overall package design; manufacturing experts from Airopak for blow-molding and fluorination experience; and our cap and filler development people at Marpac."
To obtain the benefits of fluorination, HDPE was chosen for the material, but a single layer couldn't be used because of the distinctive Pennzoil color. "To obtain a good, consistent barrier with fluorination, the gas must only come in contact with natural, virgin resin," explains Howe. "If you expose a pigmented layer to the gas, it could discolor the pigment. Or, more likely, the colorant wouldn't permit the formation of a consistent barrier layer. That's true for any modification to the virgin resin."
Thus, Airopak determined the bottle would be produced on a Model 502D coextrusion blow molder from Bekum (Williamston, MI). In the end, Airopak blows a pigmented HDPE/natural virgin HDPE bottle, the outer layer being 20 mils thick. While in the mold, the bottle is actually blown with a fluorine-nitrogen gas mixture instead of air. Those chemicals react with the interior HDPE to form a continuous barrier layer to protect the chemical formulation. Earlier, Pennzoil had recognized that use of a post-fluorination process could affect the surface and the color of the container. For more on the blow-molding challenges, see "The art and the angles" sidebar, below.
Custom closure, too
While Airopak and PVC Container were working on the blow-molding issues,
Pennzoil was sourcing the closures from Rexam (Evansville, IN). A child-resistant polypropylene cap was selected for the primary container, but Rexam had to develop a special closure for the spout. It had to have a hole in it to accept the flexible spout manufactured by Marpac. The closure company engineered the primary cap to be child-resistant, while the spout closure had to be removal-resistant.
However, Pennzoil found that the flexible neck and spout from Marpac was too large, so it had to be made smaller. Even more important, a locking device had to be designed so it could be incorporated into the spout closure from Rexam.
Next was the issue of delivery of the neck and spout. Team Rescue did not want it to be simply taped or banded to the container. The design of the container had to incorporate a place to hold and secure the spout to the bottle. However, the possibility of an indented area in the sidewall of the bottle had the potential to create blow-molding problems.
Finally, a recessed cavity was created for the spout, and a p-s label was placed over the opening once the spout was in place. This meant the spout could not be removed without tearing the label covering the opening.
Lots of testing
While all of the technical details were being addressed, Crowder and the marketing department did a considerable amount of consumer testing. "We tested the concept, the name, the advertising and even the pricing levels," she says. "In the automotive industry, we move pretty quickly."
At Airopak, the spouts from Marpac are manually snapped into the indented area of the container, and containers are shipped to Pennzoil's packaging facility at Highlands, TX, for filling, capping and labeling. While samples were available for the automotive exhibition in November, filled bottles moved into distribution in December.
Promotion started in December. "We began with a 60-second infomercial on cable television, and we tested various stations and times," Crowder says. "A traditional 30-second commercial began to run in February, and later we added radio and print advertising."
The response has been strong, she says. Business Week magazine named Rescue one of the best products of the year, Crowder crows, and it also was featured on an Oprah Winfrey show early in the year. "People are amazed by the product. We've gained excellent distribution and very good product movement. It's sold to all outlets that sell auto supplies," she adds. The suggested retail price is $14.99.
"What impressed us was that PVC Container and its affiliate companies could visualize what we were looking for right at the outset," says Howe. "Even when confronted with a situation it had never experienced before, the suppliers' team got the job done no matter the obstacles. And giving kudos to our own people, the job was done on time and on target." (AO)
See sidebar to this article: Tough to find suppliers
See sidebar to this article: The art and the angles
In a hurry? Request more info via Web-based reader service by clicking on the reader service number.
Or you can jump right to their Web site if one is listed.
Companies in this article