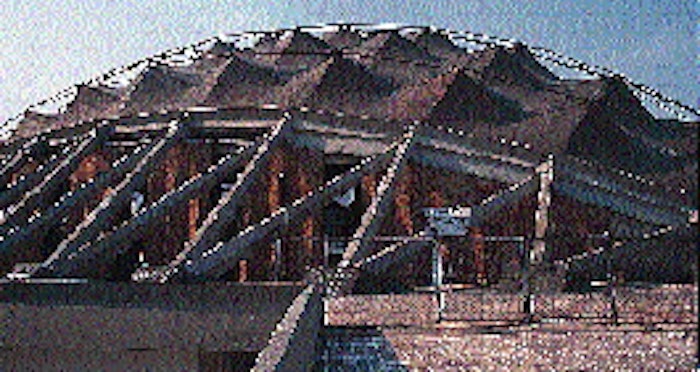 Optimism is the flag that will be flying over the Sports Palace in Mexico City next month when Expopak de las Americas '96 opens for packagers in Central and South America. The exhibition will be held June 25 to 28, from 3 p.m. to 9 p.m.
Sponsored jointly by Oprex (Mexico City, Mexico) and the Packaging Machinery Manufacturers Institute (Arlington, VA), the show was surprisingly strong last year, even though the economy of Mexico was severely troubled. Along with the exhibition, the Mexican Packaging Assn. (AMEE) also plans two days of conferences.
"We're convinced that Mexico offers a long-term and growing market for the packaging machinery manufactured by our members. Expopak is a first-class vehicle for them to showcase their equipment and technology," says Charles D. Yuska, PMMI president. That confidence reflects U.S. packaging machinery sales in Mexico. It is expected that U.S. exports in '95 again topped $100 million, perhaps approaching the record $107 million worth of exports logged in '94; exports totalled $96 million through November, the last month fully tabulated.
As of March, Oprex expected that Expopak would include more than 300 exhibitors, about 10% more than last year. Interestingly, non-Mexican exhibitors are likely to jump to 65% or more of the total; last year, exhibitors were about evenly split between Mexican and foreign companies. Exhibit space will cover almost 100ꯠ sq'.
Meanwhile, the show sponsors anticipate that visitors will total 14ꯠ this year, a 12% increase over '95. In large part, the increase may be due to higher representation from Argentina, Brazil and other countries where the exposition has received more publicity.
The Mexican Packaging Congress at Mexico City's Hotel Nikko is planned for the 11/2 days that precede the opening of the exposition. On Monday, June 24, attendees will be welcomed by JuliSigman Jiménez Oseguera, president of AMEE. After a session on change, the balance of the morning will consist of reports from various sectors of AMEE: glass, metal, plastic, paper and converters. After lunch, the organization of "maquiladora" businesses will discuss their growth, and the day will end with the unveiling of Mexico's packaging awards.
On Tuesday, four presentations will be given just before the formal opening of the exposition at 1 p.m. Environmental regulations for packaging is the topic for Dr. Juan Careaga. The role of packaging for exports will be discussed by Jess Tovar Navarro. A former president of AMEE, Dolores Vidales Giovanetti, will identify Training opportunities in packaging, and the Congress ends with a program on Packaging and the Internet.
A listing of U.S. exhibitors and other companies with U.S. representation as of April 5, will follow.
U.S. Exhibitors
A-B-C Packaging
Accraply
Adco Mfg.
Aline Systems
Alvey
Arpac
Atlantis Plastics
Automated Packaging Systems
B & H Labeling Systems
Bemis Packaging Machinery
Better Packages
BWI Fords Holmatic
Diagraph
Domino Amjet
Econocorp
ELF Machines
Elmar Worldwide
FMC
Formost Packaging Machines
Fowler Products
Garvey
Great Lakes
Greener
Hapman Conveyor
Hartness Intl.
Hayes Machine
Heisler Industries
Independent Can
ITW Dynatec
Kiwi Coders
Klockner Packaging Machinery
Madison Equipment
Markem
Marsh
Mateer-Burt
John R. Nalbach Eng.
Newtec
Nordson
Norwood Marking
Omega Design
Pack West Machinery
Packaging World
R. A. Pearson
Portola Packaging
Ramsey Technology
Sasib Packaging North America
Scholle
Shanklin
Sidel
Simplimatic
Solbern
Styrotech
3M
Tecnipac
Union Standard
Woodman
Whallon Machinery
Companies in this article