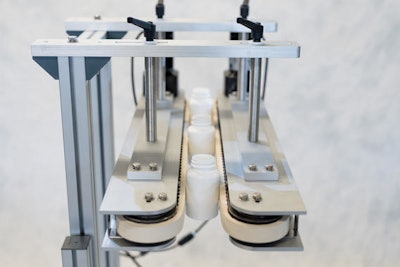 Deiz Co. showcased the Pharmafill BCV1 bottomless conveyorat PACK EXPO, demonstrating how the conveyor enables serial numbers, lot codes and other markings to be printed on the bottle bottoms, without requiring the bottles to be slowed, stopped, rotated or diverted.The unit accepts plastic and glass bottles from a standard conveyor that drops out from under the bottles as dual side belts grip and convey them over a laser marking device, thermal inkjet printer, continuous inkjet printer or other coding system. When marked, the BCV1 Bottomless Conveyorreleases the bottle to the next stage in the packaging line.
The bottomless conveyor technology also may serve as an active transfer mechanism totransfer bottles and other containers from one point to another instead of using dead plates or other passive diverters, which require back pressure from the containers. The BCV1 hugger belt conveyor may be easily adjusted in width and in height to accommodate a wide variety of bottle shapes and sizes and may be mounted on a conveyor or set on a sturdy, adjustable-height lift stand. The BCV1 Bottomless Conveyor is manufactured in the company's Wall, New Jersey, headquarters, and ships fully tested and assembled.
Stop by Booth LS-5802 to see Deitz Co.'s new bottomless conveyor.
Companies in this article