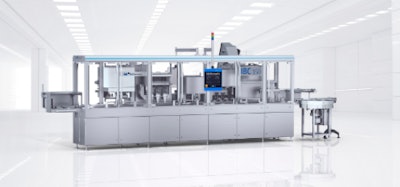 Companies are constantly seeking ways to minimize rejects in pharmaceutical packaging. When an individual pharmaceutical tablet is damaged, often the entire bottle is removed from the process.
At PACK EXPO in Las Vegas, Uhlmann (North Hall – N-215A ) showcased its new system aimed at reducing waste by up to 99 percent when packaging solid dose products in bottles.
The packaging line IBC 150 with its single tablet reject function is able to eliminate individual damaged tablets before they are filled into a bottle. The company reported that, as an example, this means that only three faulty tablets–instead of three bottles–are removed from the process.
IBC 150 with new module
The basic version of the IBC 150 comprises a bottle infeed, servo-regulated bottle transport and tablet counter, capping unit, and bottle removal. The tablets or capsules already undergo inspection on the vibratory plate of the tablet counter. With the aforementioned single tablet reject function:
If the system identifies a damaged product on the vibratory plate, e.g. with color chipping or fracturing, this is specifically and gently removed via one of the separately driven ejection channels.
Production speed is not affected during this process.
The single tablet reject function is fully integrated, both physically into the machine and electronically into the machine control system, enabling operation via a central display. 
Fitting and removal of the ejection channels requires no tools. The machine control system is used to set the parameters.
"Depending on the filling capacity, we are able to reduce the number of rejects by up to 99 percent using the single tablet reject function. That is of enormous benefit to all pharmaceutical companies that fill bottles with tablets. Single products are accurately eliminated from the process instead of having to remove filled bottles at the end," explained Konstantin Gerbold, Product Manager Bottle Business at Uhlmann.
The IBC 150 with the single tablet reject function is designed according to the latest Uhlmann quality and design standards, with IQ, OQ, and DQ documents already available.
Also on display, the company demonstrated the Blister line BLU 200 with an appropriate cartoner, track-and-trace systems, as well as the Uhlmann Software Suite for extensive digitalization of the pharmaceutical packaging process.
Companies in this article