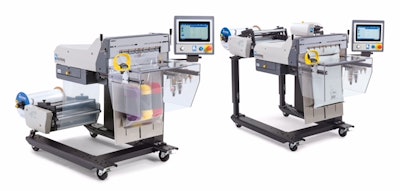 The new Autobag 600™ and Autobag 650™ Wide Bagging Systems will accommodate a range of Autobag bags-on-a-roll and bags-in-a-box material up to 16 inches wide by 27 inches long.
The Autobag 600 is a semi-automatic filling and sealing machine designed for packaging large products at speeds up to 65 bags per minute. An innovative engineering design has eliminated the need for light curtains or double-palm switches, while the adjustable six inch pass-through enables faster, more efficient cycle times.
The Autobag 650 is the same wide bagging system with a fully-integrated next-bag-out printer that eliminates the need for a separate labeling operation, increasing speed and accuracy in mail order ecommerce, prescription-by-mail, catalog order fulfillment, and frequent changeover, variable data applications. The Autobag 650 prints and packs at speeds up to 40 bags per minute.
These baggers include an AutoTouch™ Control Screen that provides quick and easy access to job storage and recall, on-board diagnostics and productivity monitoring. The Autobag 600 and Autobag 650 can also be networked for full pack station integration and central monitoring. Both baggers feature an open design with fewer moving parts for longer life and ease of maintenance. Plus, the Autobag 600 and Autobag 650 easily integrate with Autobag and third-party equipment for fully automatic bag packaging operations.
"These new baggers were engineered with an emphasis on ergonomic design for the operator, and return on investment for the owner," says Chris Rempe, Vice President of Global Marketing. "The unobstructed access to the loading area is one of our most user-friendly features to date, and the highly flexible design accommodates a wide range of products and bag sizes, increasing packaging capacity. Automated Packaging Systems is committed to developing products that make our customers more successful," Rempe explains.
Cushoioning wrap
The company also demonstrated a new AirPouch FastWrap cushioning wrap that is high loft and 24 inches wide. This new, extra wide version of inflate-on-demand protective packaging material is ideal for large products shipping in large boxes, where both protection and void-fill is important.
AirPouch FastWrap features a patented honeycomb pattern that supports multi-directional wrapping for optimal protection. The 1.25-inch high loft coupled with the 24-inch width makes wrapping large products easier while using less material. Perforations placed every 6.75 inches enable packers to use just the right amount of product to avoid waste. This pre-formed, inflate-on-demand material also reduces shipping and storage costs when compared to pre-filled bundle bubble material.
The new 24-inch wide material comes 1300 linear feet per box and offers 66 percent more void-fill space than standard protective packaging materials. This new material is currently available in clear LLDPE, as well as EarthAware® recycled and biodegradable blends. Custom colors for all FastWrap sizes are also available.
"The growth in online ecommerce has driven the demand for lightweight protective packaging materials that can be used for multiple applications," explains Chris Rempe, Vice President of Global Marketing. "This new AirPouch material meets that need, protecting package contents and filling void space economically," he adds.
Thermal transfer printers
The company finally introduced new AutoLabel 500™ and AutoLabel 600 Thermal Transfer Printers are specifically designed for fast and accurate inline printing, improving productivity by eliminating the need for a separating labeling operation.
AutoLabel printers apply labels up to 4 inches wide x 20 inches long directly on the bag. They support both linear and 2D barcodes in a wide range of fonts and symbols for maximum flexibility in product identification, tracking and compliance labeling. Resolution options up to 406 dpi are available, ensuring the highest quality graphics, text and barcodes. When used with genuine AutoLabel Thermal Transfer Ribbon, print quality is guaranteed durable, resisting scraping and flaking that can compromise readability.
The AutoLabel 500 is designed for use on the Autobag 500 bagger, while the AutoLabel 600 is designed for use on the new Autobag 600 wide bagger. Both printers boast a tilting printhead for easy maintenance, and a Target Registration Control feature that enables precision adjustments to 1/16 inch.
"These new AutoLabel Printers have been engineered with technology that provides higher quality printing, longer life and easy maintenance," says Chris Rempe, Vice President of Global Marketing. "Network integration is easy with USB, ethernet, serial and parallel port connectivity," he adds.
Companies in this article