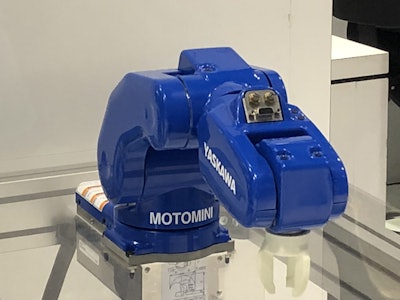 Every year at PACK EXPO, attendees are invited to explore robot technology innovations that enable a wider range of applications, at faster speeds, and in smaller footprints. This year was no exception. At the Yaskawa Motoman booth, the company exhibited what it said is smallest and lightest-weight six-axis robot in the industry—the MotoMini.

The MotoMini weighs just 7 kg, which facilitates transportation and installation and makes it ideal for tabletop-, floor-, ceiling-, tilt- or wall-mount installations, conserving valuable floor space. According to Yaskawa Motoman, the robot is equipped with the highest acceleration in a small-sized robot, making it 20% faster than comparable small robots to reduce cycle time and increase production output.

The robot's 0.5-kg payload supports a variety of tooling and sensors to fulfill diverse project needs. It is recommended for applications such as assembly, dispensing, inspection, kitting, machine tending, material handling, packaging, parts feeding, sorting, and STEM Education. The ultra-compact design enables installation in factories with high-density layouts, and the compact footprint (191 x 124 mm) allows the robot to be mounted close to workpieces and other machinery in existing lines or cells.
As Yaskawa Motoman explained, cables and air lines are routed through the robot base to the upper arm to increase cable life, enhance safety, and reduce teaching time, while a single power and control cable reduces wiring time and improves cable reliability. As an added benefit, the company noted, the MotoMini features an extremely quiet operation with less than 65 dB, with maximum load and speed.
The MotoMini is controlled by Yaskawa's new ultra-compact YRC1000micro robot controller, which can be installed vertically, horizontally, or mounted in a standard 19-in. equipment rack.

Companies in this article