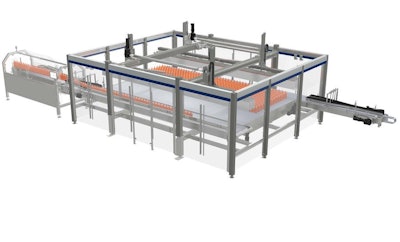 Gebo Cermex, along side Sidel in the Sidel Group Booth S-2901, is highlighting its new AQFlex® – an intelligent, all-in-one product handling solution with a radically new approach to conveying and accumulation, delivering unprecedented packaging line performance, the company says.
Liquid packaging producers are becoming increasingly demanding when it comes to their line requirements. They cannot afford to compromise on optimal performance in terms of production uptime, efficiency, and reliability, always paying close attention to minimizing Total Cost of Ownership (TCO). AQFlex answers these challenges, as it is an all-in-one product handling technology able to accommodate any product, whatever the application, whatever the market, in all container materials, formats and shapes, full or empty, while also enabling automatic changeovers and ensuring total care of product integrity.
The solution  can operate at any speed, from 1,000 to 100,000 containers per hour, delivering energy savings of up to 60%, without compromising high efficiency (up to 99.5% at high speeds). This packaging line performance is coupled with the best accumulation/space ratio on the market: it is up to 40% smaller compared to traditional solutions.
Also on display, EIT – Operational intelligence to support continuous improvement
The highly flexible EIT automatically records 24/7 raw production data, calculates a wide array of KPIs to help measure performance, analyses production issues, detects efficiency loss sources and performs root cause analyses. Currently installed in more than 70 countries, it is designed to ultimately decrease unplanned downtime, reduce waste and costs, and increase the plant's output, as it gives employees at all levels of the organisation real-time access to relevant and actionable information on production-related issues.
Stephane Banville, Zone Vice President North America, Gebo Cermex, highlights, "Our market-leading data acquisition and plant intelligence system is a universally proven solution that can be applied to all markets including beverage, food, home and personal care, dairy, healthcare, chemical and electrical, regardless of location, business model and production assets. EIT implementation is not limited to Sidel and Gebo Cermex equipment. Our system can also be installed on third party equipment as well as on new or existing lines worldwide with global support provided for all the installations." GES – Innovative thinking paired with world-class expertise. Banville goes on, "To develop innovative and customised line solutions, we combine over 50 years of experience in the design of packaging lines and the factory environment with a per-manent technology-watch and rational approach. This enables us to offer a wide scope of ser-vices to North and South American markets."
With Gebo Engineering Solutions (GES) as an autonomous business unit within Gebo Cermex, the company offers a complete range of engineering services to the packaging indus-try all along the packaging line lifecycle: plant design, process and utilities, controls and auto-mation, packaging solutions, project management, and productivity improvement. 
Companies in this article