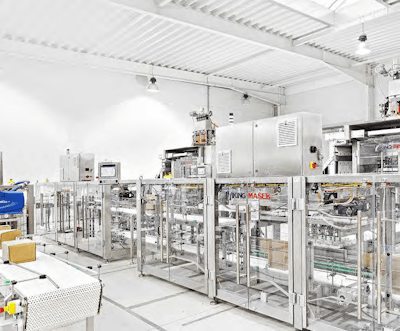 Show Daily Exclusive - Flexible packaging often involves VikingMašek, parent company of Viking Masek Global Packaging Technologies (Booth S-2852).
Headquartered in Vlasim in the Czech Republic, the firm designs, manufactures, sells and services vertical/form/fill/seal (V/F/F/S), multilane stick pack and cartoning machines worldwide. Applications include food, beverages, pharmaceuticals, nutritional supplements, hardware and other products. The company holds a large number of patents and has won several awards in recent years.
From the high-speed ST800 model to the modular MS400 machine VikingMašek depends on its long-standing partner, Siemens Industry (Booth N-5747), for programmable logic controller, drive, human/machine interface (HMI) and low-voltage components. Energy-saving components ensure that the machines meet all climate and environmental protection regulations. The Siemens platform also helps minimize downtime, rejects and waste and maximize yield.
Using the Siemens platform enables VikingMašek to standardize on the same control technology across all machine variants. Development, manufacturing and assembly are handled by a single supplier. And this is not just beneficial to the original equipment manufacturer (OEM). Jan Masek, CEO of VikingMašek, explains, "Our customers benefit, too, because they can also use the worldwide support offered by Siemens."
VikingMašek's new, high-speed ST800 multilane stick pack machine represents a good example of the Siemens control and motion-control systems in action. An integrated checkweigher with automatic feedback checks the weight of each stick pack and reports incorrect weights to the Siemens-controlled servo-feed screw so weight can be adjusted. A standalone Simatic S7-300 controller (ET 200S-PN CPU) with Siwarex CS modules measures the weight, which is then transmitted to the Simotion motion-control system by the Profinet I-Device function. Operators run the machine via a 12- or 15-in. Simatic Comfort Panel HMI. VikingMašek machines also provide extended functions such as parameter and recipe backup on a USB memory stick, recipe retrieval with a handheld QR scanner and a camera connection for an instant view of the HMI.
Siemens technology also plays an extensive role on VikingMašek's MS400 V/F/F/S machine. Modular, flexible and fast, this model pairs Siemens technology with a robust, hygienic stainless steel structure. A modular, exceptionally smooth Sinamics S120 servo drive for the sealing jaw ensures that individual packaging steps are executed quickly and repeatably. The Simotion D motion controller meets the requirements of OMAC PackML thanks to use of the Simotion software library. The integrated data interface facilitates connection to higher level systems and offers users access to information such as uptime, downtime and number of packaged products.
Lukas Masek, vice president of Viking Masek, concludes, "Siemens is a great partner to work with. Thanks to Siemens, we can work on unique solutions which make us a market leader in the field of packaging machines."
For more information, visit www.VikingMasek.com, www.usa.siemens.com/packaging. SD
Companies in this article