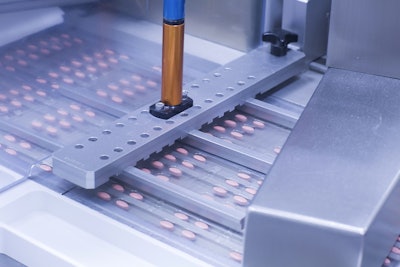 In assessing packaging line needs, companies recognize the growing need to modernize manufacturing facilities to improve production efficiency and reduce product changeover time. Reducing labor and packaging costs factor prominently in the growing global demand for blister packaging equipment.
Although packaging requirements vary by industry, automation serves as a common thread as a way to boost throughput, minimize manual operation, increase machine operability, and facilitate "on-the-fly" equipment changes.
"Burgeoning demand for various goods is influencing manufacturers to exercise improved operation management strategies," says a press release announcing an intelligence study on the global blister packaging equipment market by Transparency Market Research (TMR).
TMR reports "Overall equipment effectiveness (OEE) is an indispensable requirement of sustainable production efficiency and can be achieved by adopting robotic automation in processing and packaging units of manufacturing facilities."
The TMR report forecasts a Compound Annual Growth Rate (CAGR) of 5.4% for blister packaging equipment through 2025, with a global valuation estimated to reachUS$3,261.6 millionby that year, "significantly up from its evaluated worth ofUS$1,689.3 millionin 2016."
Limiting factors
Despite the upbeat forecast, TMR notes, "The lack of centralized purchasing and intensifying competition, particularly in the developed countries wherein a number of companies are venturing, is hindering the proper prosperity of the global blister packaging equipment market.
"Most manufacturers are dependent on various vendors of blister feeds used in blister packaging. Another obstruction to the market for blister packaging equipment market is the reluctance of consumers to adopt the automated processes. Many of them continue to depend on conventional mode of pharmaceutical packaging as it renders ease of machine handling such as bottles and containers.
Nevertheless, increasing adoption of blister packaging lines to optimize production, shift away from fit-to-one concept, and opportunity for multiple product dispensing blister packaging are expected to open new opportunities in the global blister packaging equipment market."
Based on product-type, solid packaging equipment accounted for 83% of the demand-share in 2017, and is expected to sustain its position throughout the forecast period.
Equipment-wise, rotary blister system are most profitable, according to TMR, while technologically, thermoforming is anticipated to sustain the strongest demand in the near future.
Geographically, the study notes Asia Pacific was the most lucrative region, closely followed by Europe and North America.