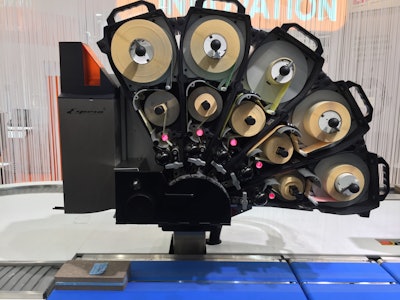 Flow wrapping of molded products like gummies or jellied candies was a featured capability at interpack's Cavanna booth, where a pair of delta-style Codian robots were picking and placing products onto a lugless conveyor belt feeding a Cavanna Zero 4 flow wrapping machine. Virtual lugs operating by way of a Rockwell control system accurately space and feed the individual units into the wrapping station. Notable is that the vacuum pickup cups are designed to place and blow the products onto the lugless conveyor. The blow component is required because the products for which this system is designed are so sticky that merely placing them isn't enough to dislodge them from the vacuum pickup cup. So the cup includes a blow-down component that ensures the sticky product releases freely and quickly.
At the Espera booth was a patented pressure-sensitive print-and-apply labeler dramatically unlike all other such labelers at this or any other packaging exhibition. Aptly named the Multi-Roller Printer, the ES 7800 holds five label rolls at once. So within a confined space, up to five different labels can be selected, printed, and applied with the use of only one machine. The flying cassette change feature means that a single label cassette can be removed and loaded with a new label roll with no stoppage of production. Now using the machine is a meat packer in Germany that is able to run cases of a wide variety of products through one labeler rather than installing multiple machines for the task.
Capitalizing on synergies is a goal often mentioned when packaging machinery OEMs merge or become part of a parent organization, and a nice example of what can be accomplished along these lines was on display at the Pro Mach booth. In this case the complementary Pro Mach OEMs are Zalkin, maker of capping equipment, and Pacific Packaging Machinery, a maker of liquid filling systems. Together they debuted the moderately priced TM300 FILLCAPP, a single-head stand-alone capper with integrated filler and cap elevator. This compact machine conserves valuable packaging line floor space as it eliminates the need for a separate cap feeder, filler, and capper. A single-station TM300 FILLCAPP can automatically fill and cap up to 30 containers/min; a two-station model can reach 60/min. This cost-effective, rugged machine features quick changeover, fast clean-in-place, and superior fill accuracy for brands and copackers in the food, beverage, spirits, personal care, home care, automotive, and chemical industries, says Zalkin. A variety of filling principles are available, including volumetric pump, Coriolis mass flow meter, magnetic flow meter, net weight scale, overflow nozzle, and piston. The capping system features a cap head with hysteresis magnets and easy setting for torque and top load. Changeover of cap chucks requires no tools.
Companies in this article