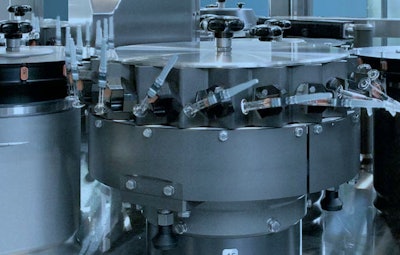 From personalized therapies to complex, higher value medicines, biopharmaceutical trends have a major impact on packaging, machinery and logistics. Advanced therapies must have robust protection throughout the supply chain. At PACK EXPO East 2017in Philadelphia, representatives from Korber Medipak Systems, discussed the technologies that will be necessary to meet market demands with current and future therapies.
On the heels of recent expansions in Puerto Rico and New Jersey by Rondo-Pak and the acquisition of Fargo Automation by KMSNA, Daryl Madeira, Director of Business Development at KMSNA, and Victor Dixon, President and COO at Rondo-Pak, explained key trends, including:
Personalized medicine and orphan drugs, which will require custom packaging and low volume production cells to produce small lot sizes

Patient administered therapies, which must feature innovative packaging design (such as Vertex ORKAMBI®) to enhance user experiences and improve patient outcomes through ease of use

Higher value medicine values, which will require robust safety and protective packaging features to prevent breakage

Emerging economies and the expanding middle class, which will require digital printing and low volume production cells to effectively produce a higher product mix (more SKUs) at lower volumes
Product handling and vision technology are both important for product inspection requirements. With a rise in the use of complex containers such as auto-injector pens, pre-filled syringes and microcartriges, inspection technologies must keep pace.
Seidenader, a member of the Medipak Systems Group that also includes Rondo-Pak and Dividella, has developed a 3D inspection method to distinguish between contamination on the inside and outside of containers filled with highly viscous products. Virtual images based on measured data and assumption are compared with actual images of the product to determine which particles are inside the container. Other technologies include oscillating mirrors and syringe inversion for thorough inspection of both liquid and lyophilized products.
Packaging automation must support shorter runs, quick changeovers and personalization to be well-suited for the future of the industry. With a wide variety of product and container types, it is key to be able to customize the method and mechanics of a machine to fit specific product needs.
Companies in this article