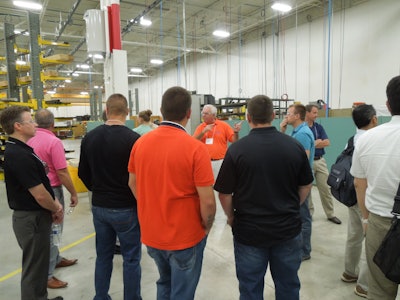 Dorner Mfg. celebrates its 50th anniversary in business with three days of festive events June 14-16, at its headquarters in Hartland, WI. Dorner designs, manufactures and integrates of conveyor systems for companies worldwide.
Beyond its "golden" anniversary, Dorner achieved several key milestones this year, including the following:
• Opening its first office in Canada
• Acquiring FlexMove, a Malaysian-based manufacturer of flexible chain conveyors for food, beverage, automotive, electronic and other industries
• Adding staff aimed at establishing brand recognition and growing sales to international markets
• Expanding its Hartland headquarters by adding a 25,000 sq-ft expansion to its manufacturing area to meet future production goals and anticipated growth
• Major expansions to many of its conveyor lines, including its AquaPruf sanitary, SmartFlex and 2200 Series platforms
Watch Dorner's 50th Anniversary video.
The anniversary events kicked off June 14 with a Dorner Summit Meeting in which corporate leadership provided an update on business operations; group sessions; plant tour and other activities.
A June 15 Open House offered plant tours; new product showcases; food, prizes and other activities in an event open to customers, vendors, distributors and local personnel.
A June 16 Employee Celebration included employee-guided plant tours; food, games and other activities in an event open to all Dorner employees and their immediate family.
The company was founded in 1966 by brothers Wolfgang, Horst and Werner Dorner. Initially, Dorner was a tool and die shop, but transformed its business to focus on conveyors in the early 1970s. In 2012, the brothers sold the business to Incline Equity Partners of Pittsburgh. Today, Dorner has a staff of about 250 employees, and its conveyors operate in more than 1,200 industries.
"Our philosophy today mirrors that of the one set forth by the Dorners 50 years ago— a philosophy based on being responsive to our customers," says Terry Schadeberg, President and CEO, Dorner Mfg. "Carrying the torch forward and continuing to live up to the ideals established by the Dorners is something every employee embraces. We're very excited for what the next 50 years holds for Dorner."
Companies in this article