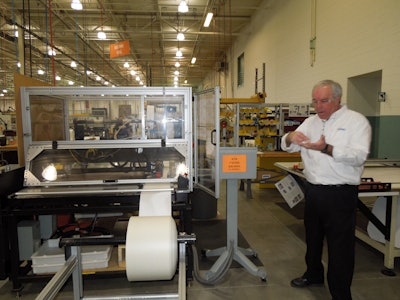 Perhaps no other machine on a packaging line is as overlooked as a conveyor. That wasn't the case Feb. 28, 2012, "Media Day" at Dorner Mfg. Corp.
The company explained that its customers think of four conveyor duty classes:
• Provide input and output to or from a machine
• Move through a machine
• Bridge between machines in a line
• Serve as the main artery of the line
The company announced its "Precision Move" advancements to its Low Profile 2200 and Heavy Duty 3200 series. Whereas conventional conveyors are subject to micro part or micro belt slipping, with accuracy based on friction, the Precision technology is designed to lower the cost and reduce the time to implement applications and prevent belt slipping.  That's achieved in part through positive belt movement, pocket timing using cleated elevation pocket sorters. Consistent belt speed is especially important for labeling, printing, and vision systems, said Dorner, while consistent part movement benefits robotic picking and box filling.
Positive drive and timing belt technology aims to serve in the packaging of automotive, machinery, appliance, pharmaceutical, medical, and electronics.
The 2200 Series includes an integrated servo motor with +/- 0.040 package accuracy, precision pockets with +/- 0.020 conveyor accuracy, ultra-high molecular weight bedplate, and a low-cost mid drive. The 3200 Series includes a ½-in. pitch timing belt with a metric 10mm pitch available, timing belt with +/- 0.010 conveyor accuracy, fully integrated servo motor packages with +/- 0.020 package accuracy, three mounting options, and spacing accuracy + +/- 0.005 in. Both series employ motors from Kollmorgen.
Servo control is integrated into the conveyor series, with servo quality gear boxes, an intuitive PC interface, is preconfigured for conveyor application, and compatibility with Dorner standard input devices. Application assistance software allows users to load their conveyor size, move requirements, without the need to calculate inertias. Programming is designed to provide an intuitive "Excel-like" move data input, graphical interface, with preloaded parameters for specific applications.
Going 'on tour'
Dorner divided media members into two groups for tours of the company's 100,000 sq-ft Hartland, WI, facility. This editor was part of a group led by Randy Meis, director of manufacturing (shown in the plant photo here).
Some of the takeaways from the tour were the following:
• Lean manufacturing processes in factory processes have helped the company reduce lead times from four to six weeks to 10 days.
• Color coding assists in manufacturing efficiency in everything from overhead signs (blue for sanitary products, red and green for industrial products, and orange for production) to work order sheets/folders.
• Stainless steel (sourced both in the U.S. and offshore), aluminum, and plastic materials are used for conveyors. While stainless steel may be the most expensive initially, coating and treating of aluminum and plastic make the comparison more complicated.
• Depending on the application, some conveyors require approval by the U.S. Food and Drug Administration.
• When the company sees a need for specific equipment that is not available on the market, it designs and builds its own machinery--in one instance, design/build helped reduce scrap 75%.