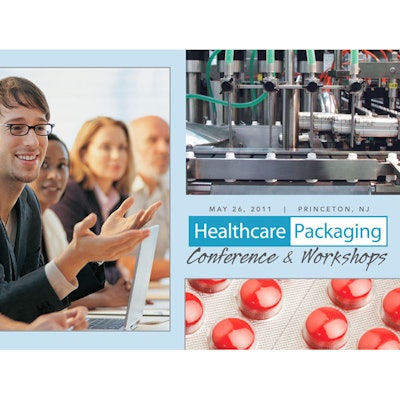 Set for May 26 at the Westin Princeton at Forrestal Village in Princeton, NJ, the Healthcare Packaging Conference & Workshops 2011 features a morning general session and afternoon breakout workshops on more specialized topics.
Tabletop exhibits will be open throughout the day and all sessions and breaks will occur in a contiguous area to maximize networking and convenience for attendees. As of April 12, here's a look at the Breakout Workshops, which will be led by providers who are experts in their particular subject area. Currently:
• Three Guiding Principles to Ensure Your Blister Package Passes Stability, by Zuzana Sabova- Kepic, manager, Barrier Packaging Analytic Lab and Lead Technical Specialist, Honeywell. The performance of drug products is so dependent on the primary packaging that this packaging is considered to be part of the drug formulation and is regulated accordingly. The goal of pharmaceutical companies is to ensure a drug formulation passes stability and to demonstrate to regulatory organizations that they can deliver safe and efficacious drugs. The goal of the Three Guiding Principles is different as the focus is on the package passing stability--not the drug. During the discussion, three different beliefs will be presented that if followed, allow pharmaceutical companies to gain early insight on the integrity of their blister packaging.
• Moisture, Oxygen & Shelf Life: Keys to Packaging Performance, by Valere Logel, product development manager, Sud-Chemie. It is paramount that drug manufacturers take into consideration the latest information regarding how the atmosphere of a package can be controlled to achieve ideal conditions for drug products during shelf life. Shelf life, or "time of protection," is not an absolute number, but depends on several parameters including package design, climactic conditions, and drug properties. Novel drug delivery and diagnostic systems are also requiring innovative ways to protect active ingredients from moisture and oxygen degradation. The workshop will explore the impact that package design, materials and climactic conditions have on shelf life. It will also consider how to incorporate protection from moisture and oxygen through the use of specially engineered polymers, desiccants, oxygen scavengers, and barrier packaging. Furthermore, simulated calculations can help drug manufacturers decide on the types and quantities of active packaging materials to incorporate into a package.
• No Container Left Behind: How Early Tracking Ensures a Higher Standard of Quality Control, by Glenn Siegele, president, Omega Design Corp. Building off the success of last year's workshop, No Container Left Behind shall continue the conversation on the importance of early (pre-label) container identification and tracking. This session will offer new insights and strategies for implementing cost-effective serialization solutions. In addition, there will be a live, interactive demo, via webcam, of a serialization solution in action.
• A Practical Approach to Improve Quality, Efficiency and Flexibility in a Continuous Manufacturing Solution, by Delta Industrial Services. Each medical device/pharmaceutical product poses unique manufacturing challenges. However, through using a modular mechnical and software design approach, numerous medical device and pharmaceutical companies have solved their product design and quality challenges in a continuous manufacturing line. This session applies to any company with the following operational challenges:
* Making product in several distinct steps causes material waste during startup and changeovers
* Labor-intensive packaging steps slow the whole manufacturing process
* Pre-made pouches are expensive and difficult to handle
*Product materials pose challenges, because they require careful tension control and/or re-registration to a physical feature or printed mark
* Relying on hands and eyes to verify product quality cuts into efficiency and profits
• Maximizing Throughput for Continuous Packaging, by Ben Garvey, general manager, Garvey Corp., and Michael Earling, vp of sales, Garvey Corp. Companies go to extraordinary measures to reduce costs and increase throughput, but decisions that improve a single machine's performance may not improve overall efficiency. Applying the theory of constraints to new or existing production lines helps decrease production cost, decrease labor, increase line availability, and improve throughput by up to 30%. These tools give you quantifiable decision-making power for purchasing new equipment or revisiting existing technology. This workshop is for those responsible for the quality and efficiency of a packaging line.