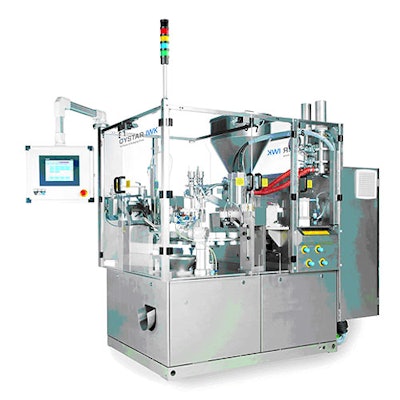 With a global customer base and a goal of more efficiently utilizing its own resources, OYSTAR IWK is examining new approaches in product development and manufacturing. It is common practice nowadays for international companies to distribute development projects or production operations among their various locations around the globe. With its new TFS E tube filler, OYSTAR IWK has shown that this model is extremely effective not only in automotive manufacturing, but also in the field of machine design and construction. The development of this innovative machine was managed from the company's headquarters near Karlsruhe in Germany, where it has been developing automated tube filling solutions for more than a hundred years. The engineering effort was undertaken in cooperation with OYSTAR Thailand in Bangkok, where the machine was subsequently built. OYSTAR IWK engaged Schneider Electric to create the complete software engineering for the PacDrive-based automation solution. Schneider Electric employees in Thailand then programmed the machine and put it into operation on site with the support of Chinese colleagues.
Given the frequent reports predicting an impending chronic shortage of engineers in Germany, this approach is an attractive model. Dr. Marco Lanza, Head of Product Management Tube Filling Machines at OYSTAR IWK, also has no problem with handing over the design and software engineering tasks: "Our core competency is the development of innovative packaging processes. Once you have defined clear standards for software engineering and are able to specify these to a service provider, the program provided by that service provider ultimately remains an IWK solution."
The right conditions
Dr. Lanza admits, however, that the conditions have to be right: "Our customers are globalizing. We must therefore do the same, and of course we expect this of our suppliers as well. We need strong partners who are international players like us, and who can provide products, engineering services, and customer support on site anywhere in the world. The same applies to automation specialists and electrical equipment suppliers. Ideally we can obtain both services from a single source, which streamlines procurement and communication processes."
Oystar IWK used the TFS E as an initial opportunity for global collaboration with Schneider Electric as its sole supplier for automation and the electrical outfitting of its machines. Dr. Marco Lanza is extremely happy with the results: "We see the potential for international collaboration with Schneider Electric. Moreover, Schneider Electric also has a presence in the locations where we have customers for the TFS E, mostly in Asia, the USA, and South America."
The original key to this wide-ranging collaboration was the PacDrive system developed by ELAU, a Schneider Electric subsidiary. Like many other companies in the OYSTAR Group, OYSTAR IWK has been using ELAU's Logic Motion Control technology for some time. The integration of PLC, motion, and robotic control functionalities in a scalable hardware platform were important selling features, as was the modular programming concept, which allows the creation of standardized, reusable software functions in the IEC 61131-3 standard.
Key technology: The Logic Motion Control system
The PacDrive technology also forms the basis for the automation solution in the TFS E. The fully servo-driven tube filler works at a maximum rate of 110 cycles per minute. The machine fills and seals two tubes per cycle, resulting in an output of up to 220 tubes per minute. Users can process plastic, laminate or metal tubes by selecting different sealing modules. The format range covers tube diameters from 10 to 52 mm and tube lengths from 50 to 220 mm.
The machine's servo-based drive concept delivers smooth, quiet operation and a high level of process reliability. The direct-drive rotary table operates completely free of backlash. Even at high speeds the smooth acceleration and braking profiles prevent the otherwise common phenomena of tube tipping and sloshing, which can occur when filling liquids. Two open spaces on the rotary table leave room for additional options, such as a stamping station.
At first glance, it is clear that a high OEE and short product changeover times were the top priorities when developing the machine. "The TFS E is an ideal high-efficiency machine," explains Dr. Lanza. Thanks to innovative solutions, changeover times of less than 25 minutes are quite achievable. All of the machine's product-specific parameters can be stored in the control panel and loaded with the press of a button. When the dosing unit with rotary valve and dosing piston is used, all parts that touch the product can be changed out en bloc as a single unit.
One particularly intriguing innovation is the CIP cleaning procedure for the optional rotary lobe pump. Outstanding cleaning results can be achieved in only a few minutes. When recounting the sensational results achieved in testing, Dr. Lanza noted that "tests performed using a real product from a customer showed that the previous CIP cleaning times of up to four hours could be shortened to approximately 20 minutes."
The servo-controlled lifting process during filling allows all of the lines leading to the product in both fillers to be installed rigidly without hoses. Thanks to a significant reduction in the number of other typical wearing parts, such as gaskets, the machine has a longer operating life with minimal maintenance costs.
Standardized equipment for worldwide use
The complete automation solution for the TFS E tube filler, the control cabinet and all of the electrical equipment installed in it, as well as the HMI solution, including the housing system, come from the Schneider Electric product portfolio. A PacDrive Logic Motion Controller controls each servo drive and all other machine functions. The mixed drive design consists of SH servomotors and MC-4 drives installed in a control cabinet, as well as iSH servo drives with integrated drive electronics. The operating controls are based upon a Magelis 10.4" panel, which is also suitable for remote service without an additional PC. An optional Magelis handheld panel with identical functionality enhances operator flexibility when using the machine. Schneider Electric bus couplers are connected to the profibus for the I/O level. Safety functions were implemented using Preventa components.
Companies in this article