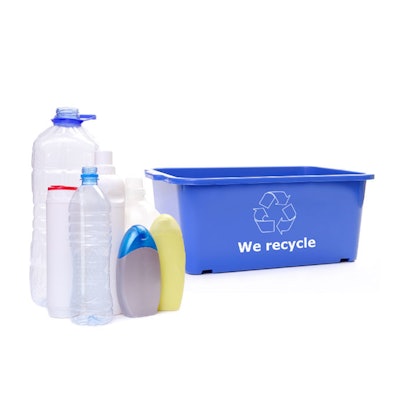 The Sustainable Packaging Coalition (SPC), a project of GreenBlue, has released a comprehensive, 23-page report on the opportunities and challenges for using recycled content in plastic packaging applications. "Guidelines for Increasing Post Consumer Recycled Content in Plastic Packaging" addresses common issues and strategies for increasing recycled content in 27 varieties of common plastic packaging for beverage, dairy, electronic, household care and laundry, pharmaceutical, personal care, and snack applications.
The report was intended to facilitate better communication between retailers, brand owners—who have seen in increase in consumer demand for packaging using recycled content—and converters, who must grapple with technical, regulatory, and aesthetic challenges in making packaging with recycled content.
As the report notes, "The use of post consumer recycled (PCR) content is critical to the development of markets for recovered materials as part of a vision to create more sustainable and effective closed-loop systems for packaging."
Best practice tips
Offered in the introduction is a list of best practice tips for the successful use of recycled content in the design and manufacture of plastic packaging applications. Among them:
• Be clear about the material specifications for the package and ensure they are performance-based, not material-based.
• Consider adjusting the design of the package to accommodate recycled content, but be careful not to design-in other unintended environmental impacts in the process.
• Choose a reputable plastics recycler who can provide detailed technical data and inspection sheets, as well as good customer support.
• Develop long-term relationships with suppliers to ensure access to limited supply, secure more stable and favorable pricing, and have easy access to technical support.
• Design the recycled content package so it can be recycled again.
• Support the recycling infrastructure development for increased material collection and improved sorting.
• Support development of innovative recycling process technologies to facilitate closed-loop recycling of all plastic types.
"Using recycled content is an environmental strategy that is understood and embraced by consumers, so there's significant market demand to change the way we make plastic packaging," says GreenBlue senior fellow Katherine O'Dea, who led the SPC research project and authored the report. "This is the first practical resource to offer guidance and solutions for using recycled materials in specific high-volume plastic packaging applications, and it sets aggressive yet realistic expectations for increasing recycled content use."
The report provides reference charts that offer a snapshot of the performance requirements, regulatory, technical, and aesthetic considerations, and market availability challenges in using recycled content. It also includes technical information and solutions for overcoming many of the challenges detailed in the report.
The report is available free to SPC members and to non-SPC members for $75.