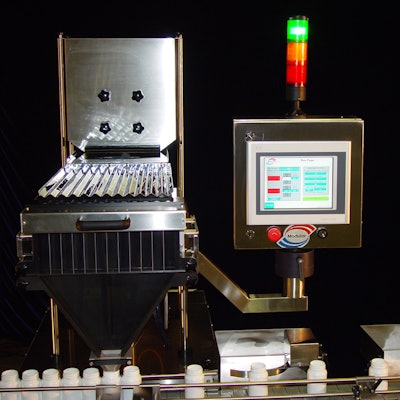 Modular Packaging Systems
is a leading manufacturer of slat and electronic counting machines for pharmaceutical manufacturers, repackagers and contract packagers. End users such as Catalent, Perrigo and Amerisource use Modular's machines in packaging facilities, where systems fill and package solid dose pharmaceuticals (tablets and capsules).
Their systems ensure that brand name, generic, and over-the-counter pharmaceuticals sold to pharmacies, retailers and patients are packaged correctly without cross contamination in a cGMP compliant process. cGMPs or "current good manufacturing practices" are regulations and testing guidelines, enforced in the United States by the Food and Drug Administration. As a result, all machines require high levels of validation.
Trend toward integrated systems
In recent years, pharmaceutical packaging end users have been moving towards more fully integrated systems in order to analyze line functionality and store/report information for Quality Assurance analysis. To better meet the needs of their customers, Modular Packaging Systems partnered with B&R to redesign their EC-12 electronic tablet counting machines to feature automated product discrimination and reject capability. Modular's EC-12 Electronic Tablet Counter/Filler is one of few, if not the only machine on the market that utilizes off-the-shelf components to analyze and reject products. Other similar machines utilize proprietary controls that are difficult to support.
In 2006, Modular Packaging Systems began working with B&R's automation partner, Automation Solutions Inc., as the primary supplier for their EC-12 electronic counter controls, including customized integrated HMI and automation controller, I/O, variable frequency drives, steppers and servo drives, all from B&R. They ultimately chose Automation Solutions for their responsiveness and local support.
Processing power, ease of use support line integration
B&R'a control processing power provides the ability to count and analyze product at speeds unattainable by other PLCs on the market. According to Modular Packaging Systems, another advantage of B&R's control solution is that end users can utilize a simple source program for maintenance. Modular sales manager Andrew Smith explains that "Automation Studio is an excellent tool that makes designing and maintaining a system cost effective. We do not have to worry about multiple hardware and software platforms and the possibility of obsolescence of those systems".
Based on their experience with the EC-12 electronic counter, Modular Packaging Systems' confidence in B&R's machine control solution grew to the point where they also realized how easy it is to perform complete line integration over multiple B&R enabled machines. From a central monitoring station the packaging line operator can access every detail -- down to the serial number of the I/O module, the firmware version of the servo drive, and the accel/decal values of the inverter drive -- for each machine on the packaging line. Modular Packaging Systems found the level of line integration that B&R delivers to be unmatched.
"Modular Packaging was first introduced to B&R by Automation Solutions as an alternative for a new controls package for our electronic counters," Smith said. "Our previous systems lacked the capability of our competitors to analyze products and reject for incorrect count or size. We were looking for a system that would be capable of meeting our machine specification calling for output of 55-60 bottles per minute, the ability to detect and reject errors in count and tablet size, and do it with off the shelf components. B&Rs Power Panel touchscreen HMI/PLC/motion controller and X20 I/O allowed us to meet all requirements and ultimately exceeded our expectations. Automation Solutions was invaluable in working with us to develop the product and bring it to market under budget and ahead of schedule.
"Following this success, we began to review the possibility of using B&R components on all machines. We are currently in process with that conversion. In addition, we are in the process of a complete line integration of multiple lines. Using B&R we can manage the system from a single interface point, track the overall line efficiency and provide that information to the customer is an easy to manage package.
"B&R will become our standard machine/line control."
Companies in this article