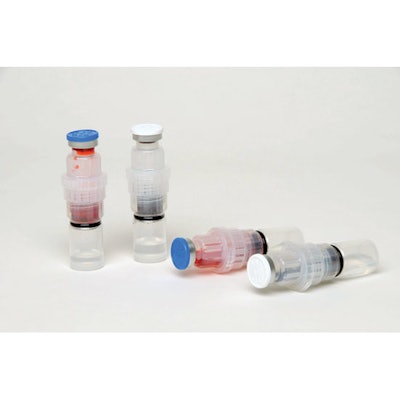 At the 22nd DuPont Awards for Packaging Innovation, DuPont Packaging & Industrial Polymers awarded a Gold to Taiwan-based Degill Intl. Corp. for its EZ Fusion™ vial dispenser. EZ Fusion contains the following components: top and bottom chambers made of polypropylene, from Lee Chang Yung Chemical Industry Corp.; an insulating spacer from ExxonMobil Chemical; and a stopper and tin cap from West.
DuPont notes, "Counterfeiting of ethical pharmaceuticals is a tremendous problem, particularly in some parts of the world. The innovative tamper-evident design of new EZ Fusion two-in-one vials enables consumers to easily determine authenticity of the product. It also takes the guesswork out of mixing drugs, so there is less waste. There is less chance of contamination, and it provides a cost-effective solution versus traditional glass vials."
EZ Fusion was just launched at Interphex New York in April, according to Jennie Lu, who is responsible for Degill's EZ Fusion business development. She describes the product as a multi-chamber vial dispenser, which provides a closure solution for filling and separately packing the medication and water for injection, or for the compound injection packaging in a sterile vial. "The mixture forms with a simple twist after removing the safety ring and flip-flopping the insulation spacer, then gently shaking the vial prior to usage," she explains.
Asked about the product's uniqueness, Lu responds: "Syringes and vials, still the workhorse delivery technology for injectables, are expected to continue to lead unit demand among parenterals, as a large percentage of existing and forthcoming injectable drugs are produced in lyophilized or dry powder formulations not easily adaptable to syringe packaging."
Lu contends that the product is more cost-effective and affordable than prefilled syringes and can achieve the same benefits. EZ Fusion's tamper-evident design aims to help reduce counterfeiting, while permitting a lean packaging process and offering users convenient self-administration of a medication. Lu says that EZ Fusion is now commercially available to the pharmaceutical sector, and will be marketed in Asia and in Europe this year. "It takes a long period for pharmaceutical firms to validate a new packing material," she says, adding that plastic applications are the trend in parenteral delivery design. "Innovation of parenteral packaging is rising in its importance, especially with the rise of biotech drug products and [as companies] consider their product quality control by including the final packaging design," she adds.
Companies in this article