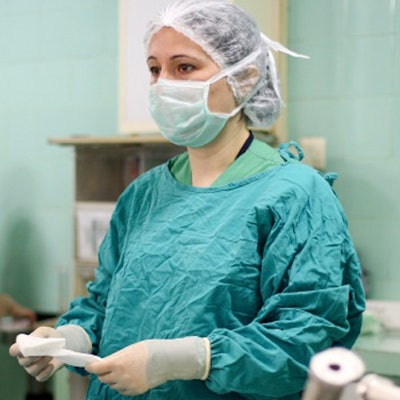 A 28-year-old asthma patient is brought into the emergency room in critical condition, turning blue, and desperate to breathe. The doctor quickly inserts a scope with a camera to determine and resolve the problem, but the camera freezes. Is it due to electrical compatibility issues with other devices in the ER?
In another instance, a gunshot wound victim is brought into the ER, "and there are multiple monitors and electronic-based machines swirling around, with packages being opened as we try to save a life. What you do in packaging effects our ability to treat patients," stated Thomas M. Reilly, M.D., Sherman Oaks Hospital-Grossman Burn Center. Reilly and Bob Vermillion, RMV Technology Group, co-presented "Packaging engineering considerations for the control of static electricity in a hospital environment," March 3 at HealthPack 2010 in San Antonio, TX.
Reilly told a packed audience, "Medicine continues to become more complex as more microprocessor-driven devices are employed. To some extent, we deal with the perils of technology." That technology, be it in the form of monitors, defibrillators, or other electronic equipment, can malfunction due to electrostatic discharge (ESD) events, which can occur even from static from personnel walking in the room.
Pacemaker circuit cards, computer screens, and packaging can all contribute to unwanted ESD events, noted Vermillion. He pointed out that low humidity environments can be especially problematic. ESD and static can also increase the potential for spreading harmful bacteria in the hospital environment. He said, "Engineers have to review medical device packaging for ESA/ESD. Low-charging packaging is the key."
ER nurses speak their mind
ER nurses, meanwhile, were surveyed this year about their packaging preferences. The "Voice of the Customer" nursing survey has generated considerable attendee interest in recent years, and that interest continued at this year's event, which surveyed ER nurses rather than Operating Room nurses, who were surveyed last year.
Reporting on the results of the new survey were Jennifer Neid, national sales manager, Custom Division, T.O. Plastics, and Jennifer Blocher, medical device applications specialist, Cryovac Div. of Sealed Air Corp. Among the survey findings were the following:
• Most respondents were aged 41-50, typically with at least 10 years of experience, having earned either a four-year degree or graduate degree.
• Unlike OR nurses who strongly preferred double-barrier packaging, ER nurses were more evenly divided between single- and double-barrier packaging. Lack of time to open double-barrier packs in the ER was a likely differentiating factor.
• Age played a role for both OR and ER nurses responding to the surveys in terms of their preference for larger print font sizes, and easier-to-open packs.
• Use-before dates were preferred to be printed near corners where the pack should be opened.
In an afternoon "Voice of the Customer-Part 2" session, four local nurses were videotaped evaluating four different package configurations, with Neid serving as the facilitator. The five were shown discussing and opening packs in a separate room before returning in a Q&A panel discussion in front of the HealthPack audience. Among the most frequently mentioned observations were the following:
• ER pressures require fast, easy-opening packages
• Expiration dates, and easy-to-read copy are important
• Packs need to identify if a product includes latex or is latex-free
• Central receiving locations at hospitals may use cutters or scissors to open shipping cases, so medical device manufacturers need to consider that in shipments
• Carry handles, which may be part of a package aiming for convenience, may become inconvenient at hospitals if the added size means the packs don't fit properly into hospital "storage cells"
• More hospitals are trying to focus on environmental issues, but recycling efforts are still sporadic, often limited to capturing "clear plastics" common to residential curbside programs
• Hospitals are most likely to return packs to companies when they're deemed not sterile.
More than 200 attendees were listed in HealthPack's attendee listing, with 41 companies exhibiting products. HealthPack 2011 is scheduled for March 8-10 at the Hyatt Regency Cincinnati.