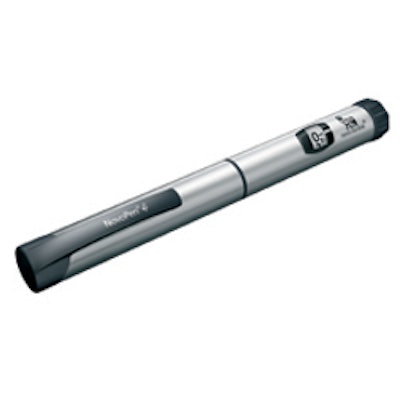 Compliance award winner: Novo Nordisk for Novo Pen 4
Novo Nordisk has made continuous improvements in its "throw-away" pen for treatment of diabetes. The pen was first launched in 1985. In France, 90% of diabetics prefer a disposable pen, unlike in the U.S., where more refillable syringes are used.
The fourth-generation Novo Pen 4 features color-coded dosage labels for Type 1 diabetics who will often take different doses. Increased readability of the label was demanded by patients, as well as simplified insertion of the cartridge into the pen. Also, an audible sound can be heard by the patient to signal injection is complete.
Security award (for safe use): Aguettant Labs for a plastic, prefilled, ready-to-use syringe
Five years in development, this prefilled syringe employs bulk-manufacturing practices to deliver a cost-effective solution that reduces risk of contamination errors and injury. Particularly suited for emergency rooms where every second counts, this pen delivers ephedrine while providing emergency room personal safety. A patented-design plunger allows for full sterilization, and a tamper-evident indicator must be quickly removed before use. Comes in an easy-to-open sterile blister from Oliver-Tolas.
Medical device award: Coloplast Labs for Conveen Optima
A medical device for the 700,000 men in France who suffer from incontinence, Conveen Optima was designed after careful study of other men's products, including health/beauty packaging and automobiles.The convenient, "fits-in-your-pocket" package is discreet and offers color coding for various sizes, looking more like a mint dispenser than a medical device. This redesign reduced the size of the product package by 75%.
Veterinary medicine award: Virbac Co. for Milteforan
Milteforan is used to treat canine leishmaniasis, a fatal parasitic disease transferred by biting flies found mostly in warmer, Mediterranean countries. Previous treatment by a vet in a clinic involved two to three visits per week for at least a month. With this package, the drug can now be administered by the pet owner. The package includes three sizes for various breeds, with one adapter that stays on the bottle for the length of the treatment. The drug has been made viscous and can be added safely to food, rather than stressing the pet and endangering the owner with an oral-dose method.
The Pharmapack Awards were created in 1997 and are "designed to underscore the innovative drive of packaging professionals: drugs, medical devices, health products and veterinary drugs. The prizes are awarded to innovative packaging that significantly contributes to proper drug use and compliance," according to the international exhibition and conference's Web site. (Author's note: Information is as accurate as possible through French-to-English translation headphones at the conference.)