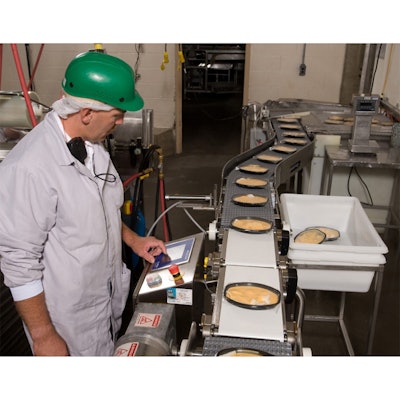 Request Foods, Inc. (www.requestfoods.com), Holland, MI, specializes in contract packing of custom frozen entrees and side dishes for the retail, club store, and foodservice markets.
When the company determined it needed a new checkweigher for its tray-packing operations, Request Foods' staffers began to shop around. Ray Huizenga, plant operations manager, recalls, "When we were shopping for a checkweigher, we considered technology from several suppliers. Footprint was an important factor - the smaller the better. Obviously, we also were looking for good accuracy, and we wanted to maintain our line speeds."
Request Foods approached Mettler-Toledo Hi-Speed (www.mt.com/hi-speed) and, based on those conversations, selected the supplier's Model A300, a new compact, stainless-steel checkweigher. Well-suited for mild to moderate wash-down environments, the small-footprint A300 met all of the operating requirements. "The A300 is a good checkweigher at a good price. And we've had good experience with Hi-Speed in the past," Huizenga notes.
Request Foods was the first in the world to install Hi-Speed's new A300 checkweigher. Designed for packages from 1.5 oz to 10 lb that are less than 7.9 in. wide, the A300 is a two-belt checkweigher that handles up to 165 packages/min with accuracy of +/-1 g. The checkweigher incorporates a field-proven frame with a new XC controller and an updated electronics platform. The open design allows easy, worker-safe accessibility for maintenance and electronics inspection
Request Foods uses the A300 to weigh a wide range of single-serve, ready-to-cook products. The checkweigh system identifies under- or over-filled trays. An air-blast ejector diverts improperly filled packages to the reject bin.
Huizenga says, "The A300 is very user-friendly and easy to clean and maintain, and it certainly has met our expectations. We are happy with the weighing accuracy and the throughput. The user interface is easy to learn and easy to use. We also like the fact that the system is password-protected for various levels of access. This prevents people from making adjustments that they may not be authorized to make."
Companies in this article