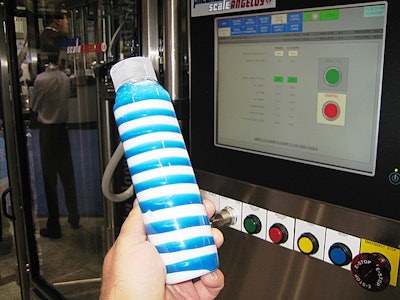 The consumer holding off on durable goods purchases can still indulge a little at the cosmetics counter or supermarket. So manufacturers will get a faster return from investing in package innovation to attract impulse buys than launching a whole new product.
Following are a few proven strategies.
New flavors, fragrances, colors and combinations
It's a no-brainer to add variety to attract consumers -- white chocolate and raspberry makes a tasty example. But how to show off the new combo?
What about a transparent pack that clearly distinguishes the chocolate from the raspberry by swirling the white and the red from separate filling nozzles? The swirl visually distinguishes the combination from single-flavor packs.
While we're at it, let's take a lesson from the fast food industry and make these LTOs or limited time offers. When that taste sensation is only available for a limited time, the consumer needs to buy now. Price is not the issue, missing out is. Perhaps they'll even buy a second for consumption after the promotion ends.
Enabling machinery: Swirl filling is enabled by
dual phase fillers
, which are now being produced with as many as 18 filling stations and in compact monobloc filler-capper configurations. Check to make sure the filler can be readily converted to run single products as well.
Sustainable yet convenient
Stick packs are the ultimate in single serve convenience for powdered and granulated products such as drink mixes. Compared to sachets, they actually use less volume of packaging material. That provides a certain amount of sustainability, though certainly any single serve pack uses more material than bulk packaging.
But are larger packs really an alternative for on-the-go consumers? If a woman carries stick packs in her purse, then mixes them with tap water, that could save one PET bottle and closure from the landfill.
If she's getting a takeout lunch with a cup of tap water (and her handy stick pack) that's saving her the cost of a soft drink.
And if the alternative is to spoon some of the drink powder into a snack-sized zipper lock bag to take with her, both the sustainability and consistent portion size come into question – not to mention spillage coming and going.
Enabling machinery:
some
stick pack machines
are more accurate and changeover-friendly than others. Look for a machine with individually controlled filling heads to prevent product giveaway. Be sure length adjustments to the foil are selected at the HMI, and that stick pack diameters can be changed readily, without special training or intervention by the OEM.
Make packing lines do double duty
We've recently seen a
robotic case packer
that can nicely stack bags into cases horizontally for retail shipment and can vertically load bulk quantities of vend packs. (Note: the video in this link features the upstream case erector first, before showing the delta robot packer in operation.)
We've also seen a
robot case packer
with the option of adding a second arm in the same machine frame to double throughput.
And yet another
case packing robot
that is modular and can plug one, two, three or even four compact robots in line, all running off the same controller.
Enabling machinery: these case packers all have something in common. They are designed by packaging machinery experts using compact 'delta' style robot arms.
The delta technology has taken the market by storm recently because OEMs can much more effectively embed these little arms into their packaging processes compared to bulky automotive robots.
Among the many benefits, these robots are contained within standard sized machines and do not require large, fenced-off work envelopes.
Reduce portion size, not quality
Just as we've learned not to supersize our fast food, consumers eating at home more often will seek better value without compromising taste, appearance or mouth feel.
A simple format change to smaller portion sizes can accomplish five things. First, it avoids increasing the unit price again, which the retailer and consumer may not tolerate.
Second, it can be legitimately marketed, like 100 calorie packs, as healthier – which doesn't mean going from 16 to 15 ¼ ounces, it means 3-packs of 5 ounce portions.
By not cost-reducing the ingredients to save money, it probably is indeed healthier than that alternative.
And when the recession inevitably ends, not taking the low cost ingredient route means consumers won't defect when they are willing to spend more for quality.
Finally, number 5, bags or pouches instead of bag-in-box or rigid packs should mean less packaging, which is more sustainable.
Enabling machinery:
consider robotic case packers, like those from
Switchback Group
, that are designed to accept, via quick-change tooling, a wide range of package types and sizes, including bags, stand-up pouches, cartons and gable tops.
Increase portion size…selectively
Well, sometimes value does come at the expense of margin. Consider an aisle of many similarly sized and shaped packages – beverage, oral care, cereal. All other things being equal, the slightly bigger pack emblazoned with "20% more free" will win.
Here's the twist. This doesn't just apply to competition between brands. It can also persuade consumers to make an intra-brand selection for ingredients that cost you less.
For example, potassium chloride supply is tight, so instead of "20% free" packages for your reduced sodium or sea salt variety, save the value pack for the garlic, black pepper, etc. where your margins are better.
Enabling machinery:
IMA recently introduced a
case packer
with fully automated, pushbutton format changes. Shifting production between carton sizes during a run couldn't be faster, or get back up to full speed faster, as there is no 'tweaking' with full servo automation.
About ELAU packaging solutions
ELAU, Schneider Electric's packaging specialist, equips over $1 billion worth of packaging machines annually. Currently, over 40,000 purpose-built ELAU packaging automation systems are deployed in machinery worldwide.
Through ELAU, Schneider Electric is the only controls supplier with a dedicated business unit focused exclusively on the automation of packaging machinery.
The market demands packaging operations that are more flexible, efficient and sustainable to fulfill marketing, supply chain and global business strategies. ELAU innovations have enabled a revolution in mechanical, software and hardware modularity to deliver these agile packaging systems.
For more information, visit
www.elau.com
or email
info@elau.com
.
Companies in this article