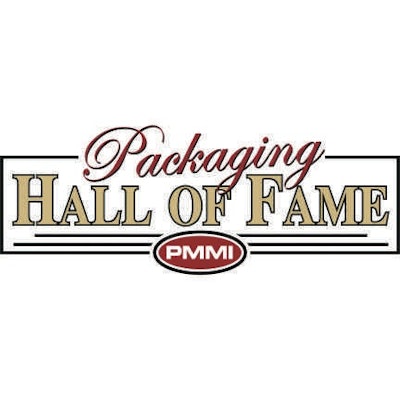 Five career packaging professionals will be inducted into the Packaging Hall of Fame™ in a special ceremony at Pack Expo Intl. 2008. Held at Chicago's McCormick Place Nov. 9 to 13, Pack Expo Intl. is managed by the
Packaging Machinery Manufacturers Institute
(PMMI,
www.pmmi.org
).
This year's ceremony, held at the Hyatt McCormick Hotel on Nov. 11, will honor Jim Goodman, Goodman Packaging; Tom Lowery, Ethan Allen; Ben Miyares, PMMI; Eric Nord, Nordson Corporation (posthumously); and Herb Schueneman, Westpak, Inc.
"Members of the Packaging Hall of Fame Class of 2008 represent a broad cross section of the packaging supply chain, and their achievements reflect well on the caliber of the industry as a whole," says Charles D. Yuska, PMMI president and CEO.
The Packaging Hall of Fame has recognized industry professionals who have made significant contributions to the advancement of the packaging industry and packaging education efforts each year since 1971. A special Packaging Hall of Fame Commission, representing a cross section of the packaging community, selected this year's inductees from a pool of nominees.
Tickets for the ceremony and subsequent reception are $75 per person and can be purchased online at PMMI.org. Companies may choose to purchase corporate table sponsorships, which include individual tickets. Proceeds will be used to support packaging education program through the PMMI Education & Training Foundation.
Below is a summary of what the 2008 Packaging Hall of Fame inductees have accomplished.
Jim Goodman
When he launched Goodman Packaging in 1972, Jim Goodman created a market-leading packaging machinery solutions provider. In 1978, Goodman Packaging was the first company to develop and deploy top-load case-packing equipment and has been a worldwide market leader ever since.
Goodman himself is a pioneer in case-packaging machinery engineering, having filed 27 patents relating to top-load packaging (horizontal and vertical), product handling, and product orienting.
Goodman has focused his extensive packaging education efforts primarily through his company's considerable interaction and direct involvement with the University of Illinois. By continually sponsoring internships, introducing the industry to college students, and ultimately hiring graduates, Goodman has enhanced the knowledge and understanding of packaging.
The company has also sponsored events and donated monies via PMMI's Education and Training Foundation Golf Tournament and Pack Expo Scholarship program.
Tom Lowery
Tom Lowery has been well known and respected in the packaging industry for 35 years. Through his employment at Ethan Allen and his active involvement in packaging-oriented trade associations, Lowery has promoted and elevated the field of packaging worldwide.
Lowery started his career in packaging at Preferred Plastics, designing and selling expanded polystyrene foam cushioning. In 1982, Lowery joined Ethan Allen, where he has since held a variety of corporate positions supporting all facets of packaging.
Lowery worked with a broad group of furniture and packaging experts to help create performance testing standards Items 180 and 181 for general commodities and furniture. Under his leadership, Ethan Allen became the first company to adopt performance testing standards, rather than the traditional materials standards, to certify compliance with carrier requirements.
Lowery has long been a supporter and active member of the Society for Packaging and Handling Engineers (SPHE), serving in every leadership position in the Connecticut chapter, including twice as president. He has also served in all chairs on the society's national board, including education, chapters, technical, and president and chairman. He was twice named the SPHE Member of the Year and has been a Certified Packaging Professional (CPP) with the Institute of Packaging Professionals (IoPP). As SPHE's final chairman of the board, Lowery in 1989 successfully led the society's effort to merge with Packaging Institute/International (PII) and create IoPP. He was named co-chairman of the new organization in November 1989.
Lowery has been a part of 12 AmeriStar Package Design Awards, was named an IoPP Fellow Member, and recently was named an Honorary Life Member of IoPP.
Lowery has also been actively involved in the support of packaging departments at Michigan State University, Rutgers University, Rochester Institute of Technology, Clemson University, and San Jose State University.
Ben Miyares
Ben Miyares joined PMMI as vice president, Industry Relations, in 1998. He has been active in the packaging business since 1963 as a writer, market analyst, packaging consultant, conference organizer, and commentator. He is frequent speaker on packaging topics at numerous international conferences, association meetings, and corporate and consumer programs.
He is editor and publisher of Ben Miyares' Packaging Management Update®, a free, weekly, online publication from PMMI.
Miyares joined
Food & Drug Packaging
(now
Food & Beverage Packaging
) as assistant editor in 1963. He quickly moved up through the ranks to become managing editor, editor and editorial director. Other publications for which he has served as editorial director include
Hard & Soft Goods Packaging
,
Paperboard Packaging
and
Glass Packer
magazines, and the
Packaging Innovations
and
Official Board Markets
newsletters.
Between 1990 and 1996, Miyares was the principal writer/reporter/editor of the bi-weekly Packaging Strategies newsletter. In 1996, he launched the industry's first daily packaging headline service on the Web, Ben Miyares' Packaging Management Update, which PMMI acquired in 1998.
Miyares is an Honorary Lifetime Member and Fellow of the IoPP, and was named Packaging Professional of the Year by the PII in 1988. He is a member of the International Packaging Press Organisation (IPPO). His market analyses, editorials, and commentaries have won many citations and awards, including three Jesse H. Neal awards for outstanding achievement in business magazine journalism.
Eric Nord
Eric T. Nord, who passed away in June 2008, is honored posthumously.
Nord is known throughout the industry as an inventor and an engineer, and was the founder of Nordson Corp. In the 1950s, Nord began work on prototype equipment that could spray a resin that was solid at room temperature, but fluid at 180ºF. In May of 1960, Nord filed his first adhesive spray gun patent and launched what became Nordson Corp.
He retired as Nordson's president in 1974, but remained CEO until 1983. His spirit of continuous innovation continues to influence Nordson even as the packaging industry continues to benefit from his developed technology.
Nord's dedication to packaging education continues: In total, the Nord Family Foundation, Nordson Corp., The Eric and Jane Nord Foundation, and the Community Foundation of Greater Lorain County have donated more than $100 million for charitable and educational causes.
Herb Schueneman
As a packaging engineer for Western Electric Co., Schueneman designed and tested returnable crating systems for high-technology electronic telephone switching apparatus. The result of this package system provided increased protection for the product at a reduced cost, eliminating the waste associated with disposable packaging methods. He was presented with the Western Electric Engineering Outstanding Achievement Award.
At Clorox, Schueneman was responsible for managing the dynamics testing laboratory. During his tenure, he helped develop test procedures that resulted in a savings of $3 million annually in packaging components costs.
At Lansmont Corp., his accomplishments included a fourfold increase in company sales, international recognition for a seminar series, and the design of several new pieces of packaging testing equipment.
Schueneman is the co-founder and president of Westpak, Inc., which tests packages for a wide variety of products from a worldwide list of customers.
Most of his career has been spent in the field of packaging education. He holds a BS in Packaging from Michigan State University and an MBA with honors from Northern Illinois University. Until recently, he was the packaging program director at San Jose State University. As program director, he was responsible for student recruitment, academic program enhancement, and scholarship programs. He continues at SJSU as an adjunct professor and instructor.
A Lifetime Certified Professional of IoPP, Schueneman was inducted into the College of Fellows in 1994. He has served as IoPP's Golden Gate Chapter president.
He received the R. David Lebutt Packaging Education Award from the International Safe Transit Association (ISTA), and is a member of the American Society for Testing and Materials (ASTM) and the Institute of Environmental Sciences and Testing (IEST), and the American Society for Quality (ASQ).
Companies in this article
Videos from Nordson Corporation