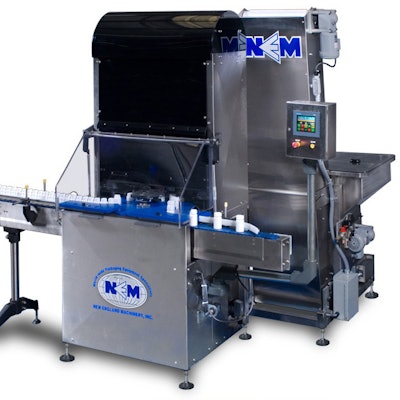 At $44.6 billion in 2007, mail order is the #2 sales channel for prescription drugs in the US according to IMS Health. And mail order's growth is outpacing the #1, chain stores, at 16.4% between 2005 and 2007.
Efficiency is the name of the game for mail order pharmaceutical suppliers to operate profitably while making it fast, affordable and convenient for customers to get the maintenance meds they depend on.
Economical, but nearly twice as fast
New England Machinery (PACK EXPO booth S-1648) has partnered with Schneider Electric's ELAU packaging solutions (booth E-6413) to develop the ideal bottle capper for this and other short run, high changeover environments.
Packaging World
recently covered the development of this new capper, the model NESHC-S.
It is a single head, servo capper that operates at up to 45 bpm, nearly twice as fast as the comparable 25 cpm mechanical capper. Once a bottle and closure are set up, servo control enables recipe-driven, automated format changes from the HMI with minimum quick-change parts.
Flexible and fast changeovers
This combination of high speed operation and pushbutton changeover is highly unusual in a single-head capper -- which is a considerably smaller investment than a rotary machine.
With the servo option, container and cap parameters are pre-programmed and stored as recipes that the operator can select from the HMI. Changeovers are tool-less using modular change parts.
The NESHC series is a continuous motion capping system with a highly accurate indexing turret. It can be used with a wide variety of caps and containers, including available child-resistant cap features.
Validated, consistently accurate capping torque
Highly accurate cap placement is enhanced by the servo option.
In pharmaceutical capping applications, the servo feedback is used to validate that proper capping torque is achieved. The ELAU
Intelligent Servo Modules
are also well known for their consistent, order-of-magnitude greater torque accuracy (+/-0.02%) and faster, automated torque adjustment compared to clutches or variable frequency drives.
The chuck releases the cap after rotating to the selected application torque, preventing cap or thread damage due to overtorquing.
The powerful controller has the capacity to verify each cap's torque value and adjust torque in real time. It can sense and reject misapplied closures or damaged bottles based on torque values. And it can record and store these values for download to a production management system.
Designed for real-world conditions
In addition, the servo modules make for a more compact electrical cabinet, simplified cabling, and easy diagnostics. LEDs on the servos show either green or red, so any operator can readily pinpoint maintenance issues. Single cables with easy, snap-fit connectors replace 2 or even 3 cables wired into conventional panel-mounted servo drives. Servo modules and cables are IP 65 rated for moisture protection.
The NESHC-S is a freestanding unit that can be placed over an existing conveyor. Non-scuff chucks provide gentle, positive grip for gentle handling at high speeds. Indexing is also much smoother with servo control than a mechanically driven linkage, preventing spillage when filling liquids.
About New England Machinery
NEM is the world's leading designer and manufacturer of both standard and custom engineered packaging machinery, including unscrambling, capping, orienting and transferring systems. New England Machinery has helped major packaging companies around the globe with their innovative designs and total customer service.
For more information, visit
www.neminc.com
or email
info@neminc.com
.
About ELAU packaging solutions
ELAU, Schneider Electric's packaging specialist, equips over $1 billion worth of packaging machines annually. Currently, over 40,000 purpose-built ELAU packaging automation systems are deployed in machinery worldwide.
Through ELAU, Schneider Electric is the only controls supplier with a dedicated business unit focused exclusively on the automation of packaging machinery.
The market demands packaging operations that are more flexible, efficient and sustainable to fulfill marketing, supply chain and global business strategies. ELAU innovations have enabled a revolution in mechanical, software and hardware modularity to deliver these agile packaging systems.
For more information, visit
www.elau.com
or email
info@elau.com
.
Companies in this article
Videos from New England Machinery