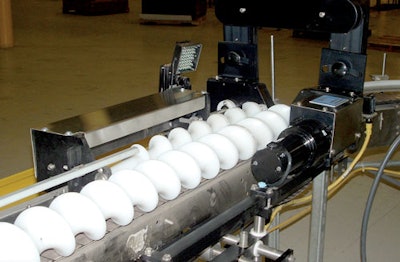 Recently, the packer was faced with a particularly unique challenge for a cat food container (specific product identity not disclosed). The tapered plastic canister has a square bottom and a feline-head-shaped top and was proving especially difficult to shrink label.
After multiple attempts to automatically align these canisters in precise positioning for shrink labeling, Toll abandoned automation and hired additional workers to manually orient the containers for feeding to the timing screw conveyor, supplied by Morrison Container Handling Solutions (
www.morrison-chs.com
), which then fed them to the shrink labeler to apply the labels.
Nick Wilson, president of Morrison, came to observe the operation. He then enlisted Morrison's engineering and field service experts to work with Toll's manufacturing improvements manager Robert Smitley and his team to custom-design a system that would not require the additional workers who'd been hired to perform manual orienting.
The two teams collaborated to design an orienter with an additional timing screw that, combined with the original timing screw, consistently delivers these containers to the labeling station. The canisters travel in random fashion from the infeed conveyor. The newly added timing screw permits the canisters to be correctly presented to the original timing screw. The original timing screw then feeds them at the precisely required 45º angle to the label applicator. The orienter detects when a container is not in the correct position for labeling and removes it from the line.
With the labeling process now fully automated and extra labor costs eliminated, Toll Packaging has been able to save money and assure labeling accuracy. Robert Smitley says, "Morrison custom-designed the original timing screw to maximize performance on our production line, and they promised us the most dedicated customer service in the industry when it comes to developing container handling solutions. We put them to the test a second time, and we're very pleased with the results."
Companies in this article
Videos from Morrison Container Handling Solutions