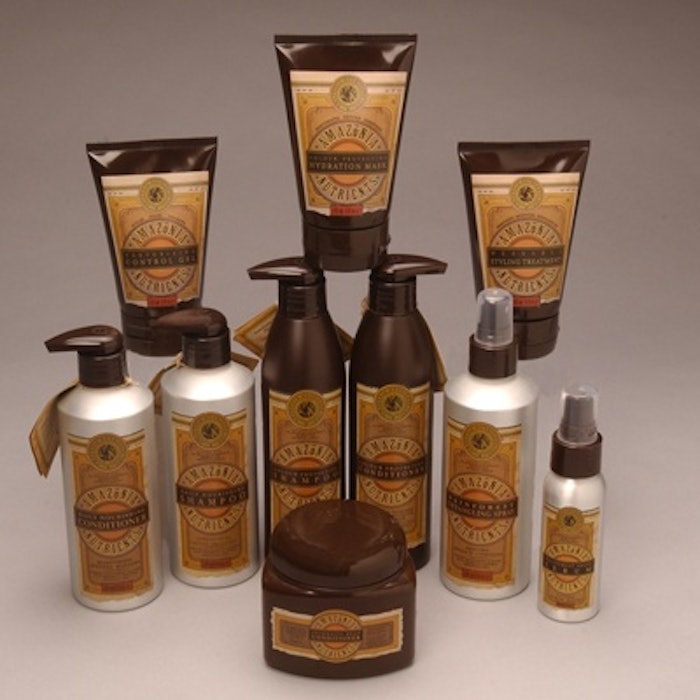 Package of the Year Awards Competition winners were honored during the 45th Annual National Association of Container Distributors (www.nacd.net) annual convention in Naples, FL, on April 4. Packages were judged on innovation, sustainability, graphics, decoration, shape, closure, texture, ease-of-use, consumer appeal, and technical merit. Gold, Silver, and Bronze Awards were presented to the top three containers in seven categories.

Three special awards were also presented: Creative Use of Stock Components, the NACD People's Choice Award, and the Bernard M. Seid Best of Show.

Customizing with stock components

One line of winning products demonstrated the worthiness and power of creatively using stock components: the Amazonia Nutrients hair care products line, a winner for Creative Use of Stock Components.

The project involved a can, a high-density polyethylene bottle, jars, tubes, closures, a sprayer, a pump, a sealing disc, and labels for all packages. Even the reshipper cartons and master carton were provided by one rigid packaging vendor/distributor, TricorBraun (www.tricorbraun.com).

The customer wanted an earthy feel because the products are made from ingredients found in the Amazon region. They were also looking for more earth-friendly packaging and liked the idea of the aluminum cans and HDPE bottles, as both are readily recyclable.

The aluminum cans in particular—cone-top style and without embellishment other than a simple paper label–are an interesting and creative use of stock components, taking what is traditionally automotive-products-looking packaging and transforming it into a high-end personal care product.

Domestic vodka proves popular

Patriotism is the premise of the packaging for this aptly named domestic, luxury vodka: Americana Vodka, winner of the NACD People's Choice Award, voted on by attendees of the NACD 2008 Annual Convention.

Distributed by All-Pak, Inc. (www.all-pak.com), this bottle design—with its hefty bottle, its red, white (clear), and blue colors cascading from one to another, and its custom red closure with shrink band—represents the essence of American culture.

The shape and design lines of the bottle combined with the simple, yet elegant decoration are intended to present a proud and visually appealing brand on the shelf.

The custom red closure, made visible by the tamper-evident transparent shrink band, blends naturally with the red organic spray for a seamless transition and visual continuity in color from closure to neck.

The decoration is a two-color organic spray application, an organic decal with a two-pass print, and a clear overcoat. The closures are red polystyrene with print decoration on top and a PE cork. The preformed heat shrink bands have an open top with vertical perforations.

The geographical pad print on the closure further emphasizes the "Made in America" theme. The product is offered in 3 sizes: 750 mL, 1 L, and 1.75 L.

In a market filled with imports, this is a package that emphasizes "Buy American."

Wonder Tablitz, distributed by C.L. Smith Co. (www.clsmith.com), was the package that received the highest rating overall as Best of Show, as we reported on March 4 (see Wonder Tablitz blitzes NACD awards). Wonder Tablitz are the environmentally smart new cleaning products that come in an empty spray bottle with a compartment containing three tablets, with each making 32 oz of product. Consumers add the tablet and water for use. Having the refills built into the bottle reduces plastic consumption by approximately 66%.

For more information, including the seven category winners, visit the NACD Web site at www.nacd.net.

For more information about the NACD Packages of the Year Awards program, contact Carole Schiller, NACD awards and events manager, at cschiller@nacd.net.

Companies in this article