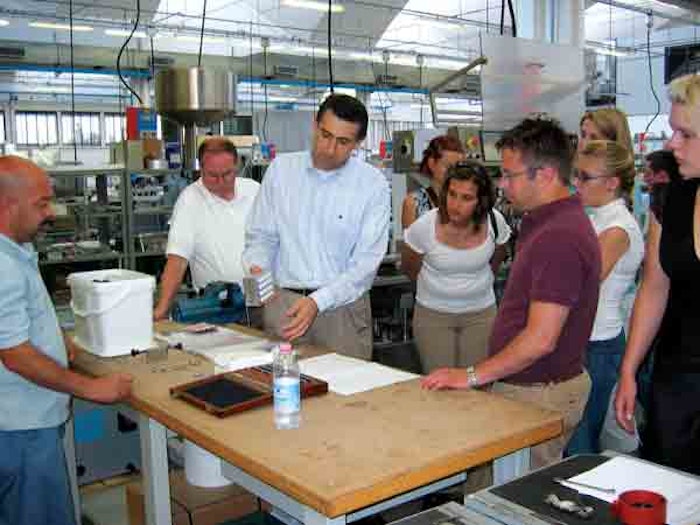 toured packaging machinery supplier plants in Bologna and Milan, Italy. The trip was part of the sixth-annual Italian Packaging Technology Awards (IPTA) program.
The program included a writing competition in which students from 15 North American universities wrote a paper on technical innovations in the packaging industry. The eight winners were awarded a trip to Italy to visit the Italian packaging suppliers. The accompanying photo shows students during a visit to IMA (www.ima.it) on June 13.
Student winners for 2007 were: Edward Boldt, Jr. (University of Wisconsin-Stout), Kevin Holland (Virginia Tech), Timothy Interlichia (Rochester Institute of Technology), Monica Mayorga (Rutgers University), Sarah Pomfrey (Mohawk College), Virginia Porter (Clemson University),  Nancy Schueneman (California Polytechnic State University), and Audrey Whaling (Michigan State University). Faculty members taking part in the tour included Daniel Goodwin of Rochester Institute of Technology, Harold Hughes of Michigan State University, and Derek Whitney from Mohawk College.
The goal of the program is to enrich the packaging education of students and contribute to their professional development. The program is sponsored by the Italian Trade Commission, UCIMA (Italian Packaging Machinery Manufacturers Assn.), and the Institute of Packaging Professionals.
The tours allowed students to see, first-hand, blister packaging and capsule fillers for the pharmaceutical industry, tea and coffee packaging machinery, flow wrappers, and end-of-line systems at Cavanna, Eurosicma, Goglio, IMA, MG2, PRB Packaging, Tissue Machinery Co., and SIT.
The Italian Packaging Technology Awards program for 2007-08 will be announced at Pack Expo Las Vegas in October. For more information on this program and other Italian Trade Commission/UCIMA initiatives, call 888/ITALTRADE, or e-mail info@italtradeusa.com.
Companies in this article