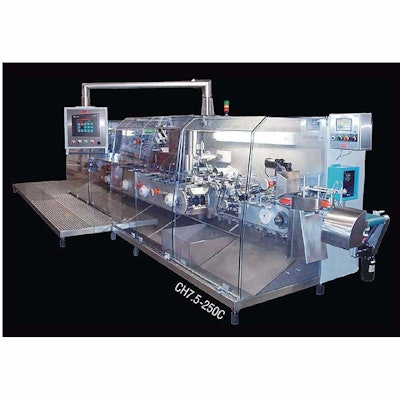 Play video of this machine

Z Automation is one of America's most innovative packaging machinery builders, as demonstrated by its patented designs and video of its machines in action. The company's horizontal and vertical cartoners are streamlined, GMP balcony designs combining speeds up to 600 blisters or 1200 pouches per minute with same-family carton tool-less changeovers in 3-4 minutes, stacking of 1 to 25 primary packs up to 300 mm high, up to 600 cartons per minute, and gentle handling of primary and secondary packages.

New standard up-to-date and purpose-built

That Z Automation could accomplish these feats using legacy PLCs is a tribute to their mechatronic engineering skills. Now, with a truly integrated automation controller and servos purpose-built for packaging as the company's new standard, Z can offer its customers even greater performance, ease of validation, maintainability and overall reduced Total Cost of Ownership. (PLC control is still available as an option, but packagers are increasingly moving away from status quo PLC specifications.)

Relics of 1980's and early 1990's electronics design, PLCs are hardware-constrained controls that rely on multiple processors, backplane communications and rack based modules to coordinate logic and motion control functions. For example, critical motion updates typically take 1 millisecond for up to 16 servos per processor, whereas the ELAU controller has an overall update rate of just 2 milliseconds for an entire network of up to 99 servos.

This kind of speed is possible because the PacDrive architecture is based on an embedded Pentium® processor, running all control functions in a single program in the cache memory of the single processor. What's more, instead of hundreds of lines of ladder logic, the software programs are modular and therefore extremely fast executing and easy to troubleshoot. The new controller is ideally suited to the recipe-driven, automated format changes that are Z Automation's trademark.

Why software-driven control is more desirable

Many benefits accrue from ELAU's modular, software-driven control strategy. A library of over 400 pre-tested, re-usable software objects simplifies programming as well as validation for the regulated industries, as do validation software tools and a change detection feature.

The PLC-based hardware is more expensive, too, making the initial purchase price of machines so equipped necessarily higher compared to the new standard.

A natural step

It was a natural step for Z Automation to upgrade its control system standard because its designs incorporate so many automated features. These include multiple servo-controlled assemblies, quick tool-less changeovers, high speed sleeving and multi-stack blister cartoning.

Z Automation's horizontal cartoners incorporate high speeds and flexibility to provide the most profitable turn-key operation. ZAC's patented loading technology allows rapid and efficient carton loading by effectively 'carrying' the product gently into the carton. This method will also eliminate the deformations associated with pushing the product into the carton. ZAC's vertical cartoners come standard with patent pending product streaming technology to reduce clogging and bridging of light weight products in the funnel.

An increasingly popular solution

The PacDrive equipment has earned a positive reputation among packagers, who first experienced the ELAU brand on high performance European packaging machines. ELAU's installed base is especially strong in the pharmaceutical, cosmetic and personal care industries where Z Automation also does a great deal of business. But ELAU's popularity is growing throughout the CPG, with breakthrough technologies that have revolutionized rotary capping and labeling, embedded robotics, form/fill/seal functionality and now Intelligent Servo Modules.

Z Automation president Zoran Momich has another practical reason for making his first control platform change in 14 years. So clearly, he did not make the decision lightly. He has identified a trend away from supplying stand-alone machines with packagers seeking turnkey responsibility for integrated, multi-vendor systems. The ELAU system becomes a common platform linking third party machines. For example, in the new PELS alliance, Z Automation cartoners are integrated with wrappers from Packaging Machines International and case/tray packers from Goodman Packaging Equipment to form a cohesive Packaging End-of-Line Solution (PELS).

A bright future

Momich is anxious to push the new control technology and further streamline new designs with ELAU's new Intelligent Servo Modules. He plans to further reduce overall footprint, electrical cabinet size, wiring and cabling costs, while making his machines more customizable from standard modules, more multifunctional and even faster.
About Z Automation Company, Inc.

Z Automation's vertical cartoners, horizontal cartoners and sleeving systems offer customers a customized and turnkey solution beyond traditional packaging technology, incorporating such groundbreaking devices as servo controlled feeders, quick tool-less changeovers, high speed sleeving and multi-stack blister cartoners. With extremely rapid growth and a customer based reaching outside the United States into Canada, Mexico and Europe, Z Automation consistently accepts and meets the challenge to provide superior solutions for its customers.

For more information, visit www.zautomation.com or email info@zautomation.com.

About ELAU

ELAU equips over $1 billion worth of the world's best machines annually, with over 30,000 PacDrive systems already deployed in packaging machinery worldwide. PacDrive is the first truly integrated automation architecture, capable of performing the functions of PLC, motion control, robotics, temperature control, PLS, MES data interface and more in a single, standards-based software environment.

For more information, visit www.elau.com or email info@elau.com.

Companies in this article