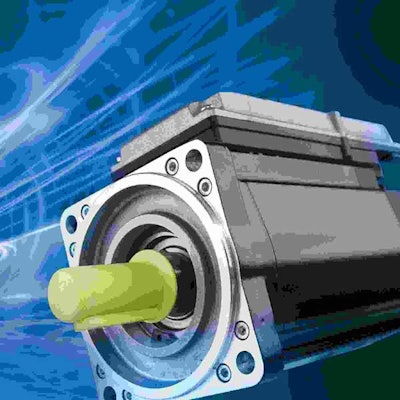 ELAU, credited with first enabling mechatronics in packaging machine design and more recently with introducing the advantages of modularity to packaging machine automation, has launched the next advance in modularity, its new PacDrive™ iSH Series of Intelligent Servo Modules. Pushing beyond the limits of conventional servo motors, drives and look-alike actuators, the self-contained servo modules increase machine performance, flexibility and overall value by streamlining the implementation of servo control in packaging machinery.
In so doing, ELAU is offering packaging machinery designers and users the enabling technology to more effectively implement consumer marketing, supply chain management and lean manufacturing strategies. Complementing ELAU's documented advantages in modular automation software, this modular hardware approach promotes new engineering efficiencies, plug-and-play machine integration and maintainability in the field.
ARC says ELAU 'is showing the motion control market how to design product'
ARC analyst Sal Spada wrote, "Over 10 years ago, the first primitive integrated drive and motor products appeared on the market from several suppliers where these early versions simply attached the drive onto the motor frame. Ugly, poor form factor and quite frankly a value proposition that was difficult to identify.
Elau's isH Series has thankfully taken us light years beyond this and is showing the motion control market how to design product. They have taken the systems view to the integrated drive and motor solutions which effectively leverages all the benefits of bringing the components together.
"The design is innovative and deserves a closer look by packaging machine designers simply to appreciate the way they leveraged the latest silicon devices, addressed power distribution, and considered aftermarket maintenance and support."
Ease of mounting, reduced componentry and cabling, simplified installation, smaller footprint and reduced electrical cabinet size all result from the innovative design. The PacDrive iSH Series combines ingenious salient pole, hybrid cable, heat dissipation and power supply designs to overcome the limitations of previous attempts to mount drive electronics on servo motors.
Logical progression of ELAU's successful beverage servo module
Recently, ELAU's PacDrive SCL and SCL Aseptic servo modules radically changed most of the world's major OEMs' approach rotary capping and labeling machinery design. Not only are these modules purpose-built for capping head and labeler bottle plate applications, they utilize a similar approach to central shared power supply and onboard power distribution module to overcome the obstacles to applying servos on rotating carousels. The PacDrive iSH extends this concept to packaging machinery in general.
Simplified design reduces costs and increases reliability
Instead of mounting servo drives in a cabinet or mounting cumbersome power supplies on the motors, ELAU has developed an efficient system with a centralized power supply and a single hybrid cable and interconnect that provides the motion bus, power, brake control, I/O signals and safety functions to each servo module. Separate and costly encoder cables and I/O bus wiring are eliminated, as is the potential for a single point of failure found in ring or daisy chained actuator networks.
Cooling is key
Until now, the inability to remove performance-robbing heat generated by the motor and motor-mounted electronics made most integral motor/drives impractical. The iSH design, however, leverages both the high torque density and the heat dissipating characteristics of ELAU's state-of-the-art SH Series motors' salient pole technology introduced in late 2005. In effect, the motor itself becomes a heat sink to cool the system.
Shared power supply
Heat generation is further reduced by locating the power supply away from the drive electronics. The remote, shared power supply is also highly efficient because it can be sized for the sum of the individual motor currents averaged over a period of time, whereas individual power supplies must each be sized for the maximum current that each motor may see at any given time.
Distributing power and functionality into modules
A single cable transfers the power to remote, IP 65 rated distribution modules mounted close to the servo modules to minimize wiring costs and reduce electrical cabinet size. Cabling from the power supply to the distribution modules can be line, tree or mixed configurations to serve whatever modular machine structure the designer selects. This allows machines and even packaging lines to be configured and reconfigured from plug-and-play functional modules controlled by a single, centralized controller.
Purpose-built for packaging
ELAU is making the iSH Intelligent Servo Module available in two frame sizes, 70mm and 100mm, which account for the majority of packaging machinery applications. For easy integration into packaging machinery, the iSH modules are IP 65 rated and can be mixed and matched in a PacDrive automation system along with SH Series servo motors and MC-4 digital servo drives.
EMC and safety
Integration of the drive and motor eliminates wiring of noise-generating high frequency AC voltages, simplifying compliance with electromagnetic compatibility (EMC) requirements. An IEC 61508 compliant safety module is available to provide drive safety functions that support setup, operating and maintenance functions which must be performed while the machine is operated in a slow speed or manual mode.
About ELAU
ELAU, a company of $12 billion Schneider Electric, equips over $1 billion worth of the world's best machines annually. Currently over 30,000 PacDrive systems are deployed in packaging machinery worldwide. PacDrive is the first truly integrated automation architecture, capable of performing the functions of PLC, motion control, robotics, temperature control, PLS, MES data interface and more in a single, standards-based software environment.
For more information, visit
www.elau.com
or email
info@elau.com.
Companies in this article