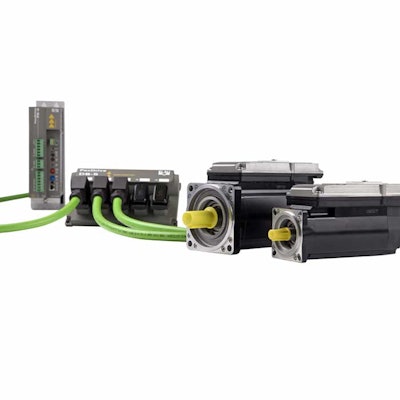 Plan ahead to make the most of PACK EXPO 2006
You can actually start attending ELAU's PACK EXPO events right now – and you'll still have plenty of news waiting for you when visit ELAU in the North Hall, at our new location, Booth N-3429.
Prep for the show online
First of all,
www.mypackexpo.com
is now live, so you can check out ELAU's
www.packexpo.com
'virtual exhibit' for technology, applications and product news. Then, you can even schedule a meeting at the show, request additional information and add ELAU's booth (N-3429) to your personalized electronic map of the show. It's pretty impressive technology being offered by PMMI, so impressive in fact that they've done away with the big, thick show directory.
Grab a handy floor plan
But, they haven't done away with the handy pocket guide, and this year there's something's new. The official PACK EXPO floorplan now highlights the booths of machine builders who use ELAU's PacDrive automation system. This will make it easier than ever for packaging machinery specifiers to pick out the exhibitors that equip their machines with PacDrive, the only control system purpose-built for packaging.
You can
request a floor plan
by mail right now. You'll also find one with your September/October issue of Packaging Machinery Technology magazine and your copy of Packaging World's special Showcase issue. Once in Chicago, you can pick up a floor plan at any entrance, as well as the Packaging World and PMT booths, ELAU Booth N-3429, the North Building Exhibitor Lounge Room N-229, and at various ELAU customers' booths.
What's in store for new technology?
Hard to believe, but it's been three years now since ELAU's PacDrive™ SCL-055 modular servosystem revolutionized rotary packaging machinery. The technology made it practical to mount servos on rotating carousels and turrets, automating bottle plates and capping heads.
For PACK EXPO, the company is adding a stainless steel PacDrive Aseptic SCL to its lineup, ideal for sterile locations that need to be cleaned or sterilized in place with caustic agents. Because stainless' heat dissipation qualities are less than ideal, the motor uses the same new, high efficiency winding technology found in ELAU's new generation of conventional SH Series servomotors.
World premiers deliver real modularity
But the big story from a hardware standpoint is the world premier at PACK EXPO of the radical new PacDrive iSH Series Intelligent Servo Modules. Like the SCL's, they combine drive electronics and motor in a self-contained unit. The iSH comes in two, bigger sizes. Instead of 55mm, the iSH frame sizes are 70mm and 100mm, representing the sweet spot of packaging servo applications.
These modules free up a lot of electrical cabinet space (and reduce cost) by eliminating the need for separate servo drives. They cut cabling in half, along with the terminations, because a single cable runs out to the servo modules with SERCOS and power. There's no more encoder cable because the position loop and all other motor control loops are closed inside the module. And that's just for starters.
'Get real' and get modular
Unlike previous attempts to marry actuator with drive components, the iSH Series modules are true, multi-axis, synchronized servos (not steppers), capable of torque control and without a single point of failure taking down the whole system (as with daisy chained drives).
(Which brings us to ELAU's show theme for 2006: 'Get real. Get modular.' The theme is a friendly challenge to competitive claims that aren't so real upon closer inspection. Copying and pasting hundreds of lines of ladder logic and calling it modular, for example, is a far cry from a library of hundreds of ready-to-run software objects.)
So, while the iSH Series' looks may be deceiving, this is yet another case of a purpose-built-for-packaging technology from ELAU changing the way packaging machinery is being built.
And the other premier? In another PACK EXPO exclusive, the world's first packaging machine utilizing the iSH Intelligent Servo Modules will be revealed.
Just for fun
ELAU also has some entertaining surprises in store for its customers, who should be sure to visit the ELAU booth (N-3429) in the Upper North Hall on Sunday or Monday of show week. ELAU North American president Bryan Orr would only provide a hint for customers: don't make any plans for Monday night, October 30th!
What's up with OMAC?
The OMAC Packaging Workgroup has been quiet of late, but they will once again have a booth presence, courtesy of PMMI, with ELAU and customer Pneumatic Scale Corporation among the sponsors. Along with various vendor product demos, ELAU and Pneumatic Scale have teamed up with a working PackML demo consisting of a bottle capping unit automated by PacDrive SCL servo modules.
It's a first, both for a PackML demonstration and for a machine builder bringing equipment to the OMAC booth. Pneumatic Scale, a Barry Wehmiller company, was the first U.S. OEM to introduce a servo capper, utilizing the same SCL technology, at PACK EXPO 2004. With a healthy order book for servo cappers, Pneumatic Scale will highlight its
latest ELAU-equipped machines
this year.
Last year, Douglas Machine (which is also launching a new ELAU-equipped machine) was the first OEM to sponsor the OMAC booth, and they're back again this year. At the
2005 Conference
at PACK EXPO, Douglas electrical engineering manager Joe Faust co-presented with ELAU and Procter & Gamble on the benefits of software modularity following the ISA-88.05 "Make2Pack" principles.
Don't miss this educational experience
At this year's Conference, ELAU engineering manager Tom Jensen will present a tutorial on how to select the best automation technology for different types of packaging machines. In addition to covering PLCs, variable frequency drives, servos, synchronized multi-axis motion and automation controllers, he'll show how international standards are leading the way to more effective control specifications, giving OEMs new competitive advantages and packagers better TCO.
Attendees will receive a free copy of the latest ARC Advisory Group report on the hot topic of aligning control specifications with business strategies.
Sign up for Session Improving Operations session W-14, Wednesday, November 1, 12:20 – 1:10 pm, "Choosing the Right Control to Fit the Application."
Plenty of machinery in action
There'll be a lot of whirring, spinning and zipping around at the ELAU booth, both live and on the big screen. You'll see an amazing demonstration of tool point control as a PacDrive system takes control of a truly deft, high speed delta robot.
You'll also witness a multimedia demonstration of new PacDrive equipped machinery being introduced by some of North America's top names in packaging machinery. In just a few short minutes, you'll see highlights of exhibits you won't want to miss. So, consider stopping at the ELAU booth first thing on your first day at the show.
Robotic functionality expands
As if all this weren't enough, you'll have the opportunity to put ELAU's latest software version through its paces. ELAU is making it simpler than ever to design modular machinery, using a powerful programming template and the industry's most extensive library of pre-tested software modules – such as ELAU's exclusive robotic software library.
You'll also see plenty of robotic functionality in ELAU customers' machines at PACK EXPO. Robotics integrated into packaging machine designs, rather than industrial robots applied on packaging lines, has developed into a major trend. ELAU's robotic software library, introduced last year, takes care of the complex kinematic algorithms and lets OEMs concentrate on designing innovative robotic packaging processes.
Robot control would overwhelm a PLC-based machine controller, but ELAU's PacDrive architecture can do it all – run multiple robot arms, synchronize all the machine functions, serve up management data and communicate with the other machines in the line.
About ELAU
ELAU, a company of Schneider Electric, equips over $1 billion worth of the world's best machines annually, with over 30,000 PacDrive systems already deployed in packaging machinery worldwide. PacDrive is the first truly integrated automation architecture, capable of performing the functions of PLC, motion control, robotics, temperature control, PLS, MES data interface and more in a single, standards-based software environment.
For more information, visit
www.elau.com
or email
info@elau.com
.
Companies in this article