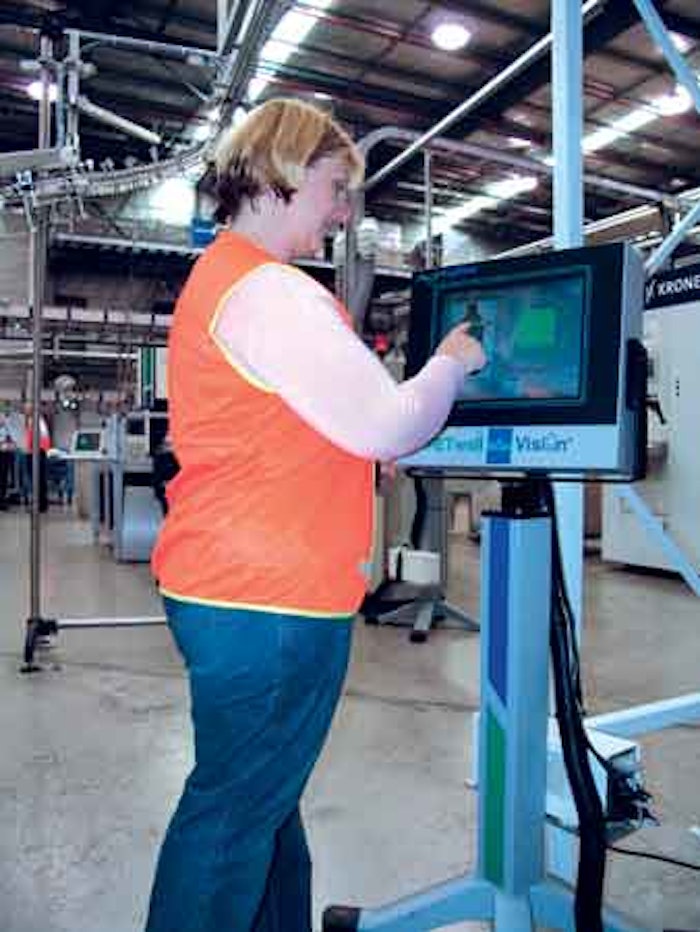 Sonoco is an early adaptor. Its new inno-vation center in downtown Cincinnati just may prove to be a blueprint for how to do it. Sonoco's facility provides packaging supply chain products and services for many of Cincinnati-based Procter & Gamble's leading brands. P&G is a customer of Sonoco.
"This facility is the first of its kind in the packaging industry, where a packaging supplier has placed dedicated resources directly next to a key customer to provide technology, design, brand management, supply chain, marketing, and sales services," says Charles Sullivan, Sonoco executive vice president for Sonoco's Consumer Group of packaging and services businesses.
"We understand that innovation is important to P&G. That is why we have invested in developing a facility and providing dedicated resources in Cincinnati. Our objective is to build and strengthen our strategic relationship by providing P&G better coordination and improved speed to market."
The 9걶-sq-ft innovation center houses personnel representing many of Sonoco's package-service offerings. Operations include technology, marketing, and account management representing the company's range of packaging capabilities. These capabilities include rigid paper and plastic containers, printed flexible packaging, and plastic metal ends and closures.
The facility also provides designers, structural engineers, and supply chain and account managers for Sonoco CorrFlex, which offers temporary, semipermanent, and permanent point-of-purchase displays and fulfillment services.
Sonoco | www.sonoco.com |Phone: 800/377-2692
Surefil to custom-fill personal-care and medical products Surefil LLC , a newly formed, privately held contract manufacturer, has established a headquarters and manufacturing facility in Kentwood, MI, that may eventually employ 278 people. The first bottle rolled off the production line on March 22, 2006.
CEO Bill Hunt founded the company to address the need for the custom filling of personal care and medical products.
"Every industry is starting to think of manufacturing as a service. Today, numerous marketing companies in multiple industries outsource their manufacturing," Hunt says in explaining reasons for starting the company.
Surefil has more than 40 million units of available filling capacity and can handle high-speed, liquid-fill products. The company offers bottles from 2 oz to 32 oz with oriented labels, tamper-evident seals, induction sealing, bottom-of-bottle lot coding, and case coding.
Surefil is led by executives having at least 20 years of packaging industry experience each, at companies including Alticor, Pfizer, Dow Chemical, General Electric, and Philips Medical. Hunt has 20 years of experience in contract manufacturing. He has held executive positions with Dow Chemical, General Electric, Alticor, and other personal-care product companies while leading project management and large-scale transitions of branded products to contract facilities.
Surefil LLC | www.surefil.com | Phone: 616/532-1700
'Virtual pharma' companies seeking more from contract services Pharmaceutical companies are increasingly looking to focus on research and development, as well as on marketing, while outsourcing their manufacturing and packaging processes.
Research by Frost & Sullivan concludes that the result is a growing demand for contract manufacturing and contract packaging services in pharma products.
The pharma industry's focus on R&D and marketing activities, as well as growth in industry revenues from $12.38 billion in 2004 to a projected $25.7 billion in 2011, provides some insight into the growth potential for co-manufacturers and co-packers with the right expertise and facilities, adds Frost & Sullivan, a global growth-consulting company.
The consultant's report says that contract manufacturers are catering to the changing needs of pharmaceutical and biopharmaceutical companies by revamping their business models to provide more value-added services, such as development, logistics, packaging, and marketing. By opting for these services, pharma companies can reduce the number of supply chain partners they use and optimize their internal resources, the report adds.
"Contract manufacturers have been building and acquiring state-of-the-art facilities that rival those of pharmaceutical companies and are constantly upgrading them to enable novel manufacturing processes," says Barath Shankar, a Frost & Sullivan research analyst. "The anticipated influx of biopharmaceuticals is likely to create a huge demand for specialized manufacturing technologies that are not available with pharmaceutical and biopharmaceutical companies."
However, Frost & Sullivan notes that the constant changes in regulatory requirements mean that contract manufacturers are at high risk when investing in manufacturing plants and technologies. A significant shift in technology or regulatory norms could result in these service providers having to realign their technologies and processes.
The report says that contract manufacturers need to develop risk-sharing strategic partnerships rather than providing "one-off" contract services in order to help pharma companies adopt "virtual pharma" business models in which they focus only on R&D and marketing.
Frost & Sullivan | www.frost.com | Phone: 877/463-7678
Preco announces major production expansion Preco Inc ., a Somerset, WI-based contract manufacturer and supplier of laser-enhanced products, is expanding production by 60% to keep pace with rapidly growing markets that require convenient, easy-to-open scored packaging, as well as perforated film and containers.
The expansion includes additional laser workstations in a clean, controlled environment bay, with the capacity to handle rolls up to 50" wide to accommodate the growing demand for large bags and pouches for pet foods, soils, and fertilizers, Preco says.
Preco adds that the expansion is part of its long-range plan to continue to offer the packaging industry value-added, cost-effective solutions for improved product protection and convenient use.
The company offers patented web and cross-web processing capability, including laser beam compressions that produce perfectly round holes at speeds of up to 1겨 ft/min.
Preco Inc. | www.precoinc.com |Phone: 800/775-2737
Cardinal Health sets next phase of RFID pilot Cardinal Health Inc ., a provider of products and contract services supporting the health care industry, says the next phase of its end-to-end pilot program to test technology could improve the safety and efficiency of the nation's drug supply. The pilot program will begin to tag medication with labels carrying unique data that can be captured and read to verify its authenticity at each step of the supply chain.
Verifying the authenticity of pharmaceuticals along each step of the distribution path adds a layer of security to lessen the chance of counterfeit pharmaceuticals entering the supply chain. Gathered data could also improve efficiency; Cardinal Health says its logistics team will be able to analyze data to identify bottlenecks, read rates, and other opportunities to improve supply chain efficiency.
In conducting the pilot program, Cardinal Health will use new technology to place radio frequency identification (RFID) tags on the labels of brand-name and generic solid-dose prescription drugs at the company's printed components facility in Moorestown, NJ Next, the company's facility in Philadelphia will encode electronic product code (EPC) standard data at the unit, case, and pallet levels during the packaging process.
The products then will be shipped to a Cardinal Health distribution center in Findlay, OH, where the data will be read and authenticated as products are handled under normal operating conditions. Normal operating procedures will be enhanced with RFID hardware and software from Alien Technology Corp . and IBM , along with project management support from VeriSign .
From Findlay, the tagged products will be sent to a health-care provider to further test read rates and data flow using the same technology as the distribution center. The product that is dispended to patients will not be in RFID packaging.
Cardinal Health says it expects to complete the test in the fall. Separately, the company says it is working with Pfizer on an RFID pilot program to authenticate Viagra shipments at its Findlay facility.
Cardinal Health | www.cardinalhealth.com |Phone: 800/234-8701
Smurfit-Stone sells consumer packaging business Smurfit-Stone Container Corp. has sold all the assets of its consumer-packaging segment to a company formed by Texas Pacific Group (TPG) for about $1.04 billion in cash. The businesses sold employ about 6길 workers and include:
• 39 consumer packaging converting operations in the United States, including contract packaging, folding carton, multiwall and specialty bag, flexible packaging, label, and lamination businesses.
• Four coated recycled boxboard mills.
• A consumer packaging converting plant in Brampton, Ontario.
TPG manages one of the world's largest private investment companies. The firm has acquired divisions of larger corporations, including Beringer (Nestlé), Burger King (Diageo), ON Semiconductor (Motorola), Paradyne and GlobeSpan (Lucent), and Texas Genco (CenterPoint Energy). [CP]
Smurfit Stone Container Corp. | www.360packaging.com | Phone: 877-772-2932
Companies in this article