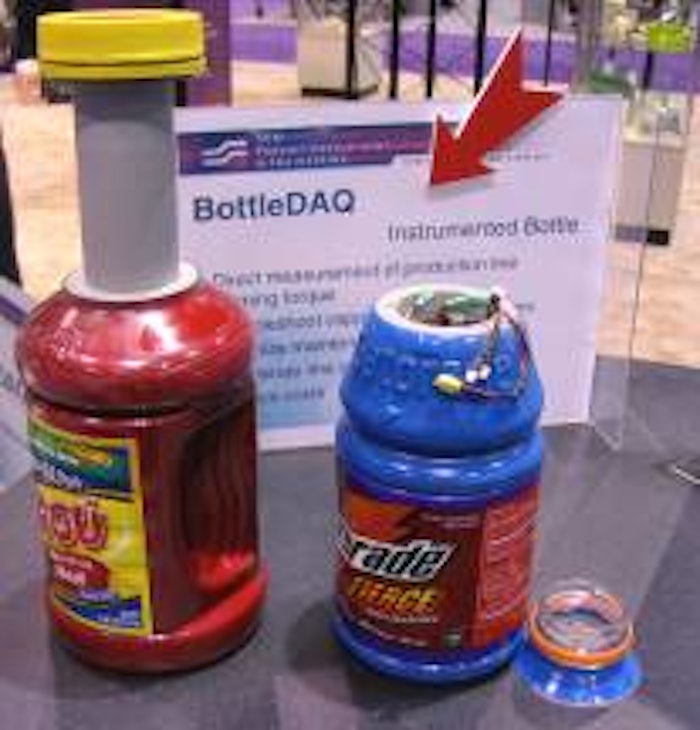 Wouldn't it be helpful if your plastic bottles could tell you what's going wrong on the production line to help you troubleshoot, for example, a problematic capper?
Now they can, using data acquisition technology from Stress Engineering Services.
I had come across this company at the National Plastics Exposition held in Chicago in June. The products on display in the company's booth were far different from anything else I'd seen at the polymer and machinery exhibition. Frankly, they were different from anything I'd ever seen anywhere.
I spoke with SES staff consultant Steve DeHoff, who says one of the major problems with plastic packaging is that closures are often either too tight or too loose, either of which can cause problems for the company and for consumers. The company's technology can help pinpoint the source of the problem using instrumented bottleDAQ (data acquisition) containers.
Uses customer's actual bottle
The specialized bottles containing miniaturized data collection instrumentation are customized to run seamlessly right on the customer's production line to help pinpoint the problem. SES uses a customer's actual container and adapts it—SES fills the bottle with a casting material and then hollows it out—to make it suitable for insertion of the data acquisition electronics that include sensor and battery. For example, the sensor could record torque data that's stored in memory. The data is downloaded via serial port link, though SES can offer a wireless Bluetooth version.
The booth displayed bottleDAQs for Ragu sauce and for Gatorade (both shown). Next up is a soda bottle-size bottleDAQ, says senior associate Dale Knochenmuss.
The instrumented bottles are used in the company's primary task of consulting, Knochenmuss explains, or the special bottles can be provided as a stand-alone device. The availability of bottleDAQ follows two years' development work, he adds.
BottleDAQ can also be used in consumer studies. "In consumer studies, test subjects are often handed a bottle and asked to open it to provide subjective feedback," says Knochenmuss. "This technology helps you to actually measure how much torque it takes for them to open or close it."
A smart pallet with a memory: palletDAQ
The company also offers an instrumented pallet, palletDAQ, for distribution monitoring and troubleshooting. Used like a normal pallet, it has an accelerometer built-in to the electronics in the base that can measure jolts and vibrations during distribution. It can accept eight channels of data such as temperature, pressure, and humidity that can be expanded to 12 or more channels of data, according to Knochenmuss. That compares to the bottleDAQ, which currently can only record one stream of data lasting for 30 seconds.
PalletDAQ can operate for extended periods of time of a week or longer, he says, and has a 1-GB memory.
Knochenmuss says the bottleDAQ is available for about $7귔 for the first model, less for subsequent ones. The company has not yet priced palletDAQ, though the pallet is interchangeable (not customized like bottleDAQ) and can be leased.
For further information, use the link to the SES Web site at the start of this article or link directly to the products as follows: for bottleDAQ, click here, or for palletDAQ, click here.
Companies in this article