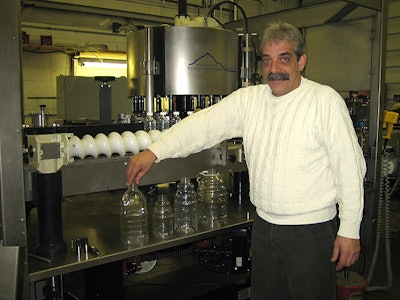 Servo basics for full-wrap carousel labeling
In a full-wrap carousel labeler the bottle enters the star wheel at pitch from the worm screw. Adhesive is applied to the bottle. The bottle contacts the label and picks up the leading edge of the label removes the label from the magazine and enters the brushing station where the label is wrapped around the container.
The critical element is rotational speed of the container as it is processed through the labeling station – this is the design premise of the machine. So explains Dan Feest a co-founder of K2 Engineering Group and project director for high speed rotary labeling equipment.
Most such machines use a stationary timing belt and pulleys. As the table rotates the pulleys rotate against the fixed belt. Two posts and brackets attach the belt to the machine. Pulley diameter is critical for bottle orientation.
On a standard machine going from an 86mm to 100mm diameter bottle makes a pulley change necessary. The only alternative for handling a range of bottle sizes is to make double or triple stack pulley arrangements.
But on a servo machine one size fits all -- there are no pulley changes. This reduces change part cost and makes for fast changeovers.
Pulleys are based on tooth pitch. If you select a 19 tooth pulley it may be a bit too fast. If you try a 20 tooth pulley it may be a bit too slow. With servos any fraction of a tooth pitch is possible.
The operator enters the container designation into the HMI and the operator can then adjust bottle rotation by pushing up-down arrows on the HMI. A main bearing supports the pulley driven by a servo.
Servo-driven bottle plates: infinite flexibility
A full servo machine (read the Yakama Juice case study) utilizes servo driven bottle plates in addition giving the customer an infinite number of cams that can be developed for any package he wants to run. The servo labeler allows square rectangular triangular round flask style and any other shape imaginable in the same platform.
To run rectangular bottles for example the labeler needs the ability to accelerate and decelerate the container from its long side to short side.
The alternative is to buy individual machines or to use a maltese cross mechanical cam design that would allow cam followers to operate on two cam tracks. Even that mechanical design would limit the types of packages that could be run on the machines.
Without bottle plate servos a servo labeler will only run one container geometry. But size changes can still be recipe-based from the HMI requiring no belts and pulleys. Changeover times are reduced tremendously. Accuracy is increased over mechanical assembly but is still limited to one container shape.
ELAU's purpose-built advantages are 'huge'
K2 Engineering is exploiting ELAU's PacDrive™ SCL technology that integrates servo motor and drive electronics in the same enclosure. Purpose-built for installation on rotating filler capper and labeler carousels the unique motor/drives eliminate electronic towers rotating over the machine.
"One of the things that's very attractive to K2 Engineering is the fact that ELAU focuses on packaging not heavy manufacturing or automotive" said Feest.
"ELAU can also handle the SERCOS motion network over copper instead of just optical fiber which is a big deal. Running SERCOS over fiber optic -- no one with any engineering responsibility would run SERCOS over a fiber optic slip ring. They allowed us to use a standard slip ring design.
"The slip ring issue was a big one for us" Feest explained. "The cost and the liability of losing mirror alignment was a critical factor. It's an expensive option to get something reliable – in the $35-55 range. We couldn't recommend that a customer put a fiber optic slip ring in their plant.
"Not needing all the drives to spin on the carousel is huge in terms of machine controls sanitation and serviceability.
"The trapezoidal shape of the motor/drive lends itself perfectly to a rotary machine which allows us to run a tight pitch. It is the most compact servo design we've seen by far integrated into a bottle table."
Modular design means maximum flexibility
The bottle plate servos are configured in an exclusive K2-developed cartridge that includes the PacDrive SCL motor/drive a planetary gearbox and a compression fitting that mounts onto the rotating table with "no hammer" arbor assembly.
Pressure-sensitive as well as hot melt glue applications are also available. Machines can be ordered with interchangeable label stations.
Servo zones permit integrated inspection
K2 technology allows inspection of brights (unlabeled cans) for dents in the carousel prior to labeling. The can is then either labeled or not all in the same machine. Labeled cans are inspected again and either sent to production or rejection.
"Only servos allow us to do this" Feest explained. "On a normal full wrap machine the velocity is constant throughout the machine. With servo control I can break the machine into zones and change the velocity in the inspection zone versus labeling. I can change the can's position for inspection. Today these are typically two different machines (bright inspection and labeling/label inspection).
"Velocity must be based on the requirements for labeling in a mechanical machine – that's all there is to it. Everything else has to be designed around that because a tightly wrapped label is the highest priority. Servo zones eliminate this constraint."
Integrating more functionalities in a single machine is a clear trend – requiring less floor space less maintenance and fewer change parts. And by integrating more functions in one machine less line control and integration are needed to efficiently synchronize tasks.
Why cams are obsolete
The lead time to manufacture a cam is 12-16 weeks. The cost of purchasing and installing a cam can range from $20 to $60. A cam changeover can take 2 to 3 days. And even with a new cam design bottle or can decorating flexibility is limited.
For one recent customer the K2 alternative was a no brainer.
"His cam was about $40 to manufacture and install" says Feest. "For the same price we were able to add the servo driven bottle plates. In effect he bought a hundred additional cams for the same price as one cam"
Cam data can be entered through the HMI in a matter of seconds. Now maximum bottle size is the main consideration for the customer.
The center turret and worms can also be servo driven providing 100% flexibility to change machine pitch and reduce changeover times. A servo driven infeed screw is applied primarily for speed control to synchronize to the machine. It removes the need for clutching and declutching screw drives or container synchronizers to accommodate odd shaped containers.
Simplifying drive trains
Label applicators represent the most difficult engineering effort including label wrap speed the technology to apply adhesive and setting up the servos and the gear box ratios.
The labelers' star wheel and timing screw use an 800 bpm right angle gear box clutch sprockets and chain drive. Because these right angle gears are not beveled they don't handle high (1+ bpm) speeds well.
A servo-driven worm gear can start and stop without clutching and de-clutching. This even allows feeding of flask-style containers that don't go through screws well at constant speed.
A typical clutching and de-clutching design introduces a knee-bend logic that takes a 600 bpm speed down to 150 bpm or less for clutching depending upon machine pitch. Clutches also introduce mechanical wear and corresponding maintenance.
In contrast the servo allows stop-starts at machine speeds. It also vastly simplifies EOP (every other pitch) operation to adjust for bottle diameter size changes. Servos also allow running EOP without needing to use double-cut feed screws or change gear ratios. The revs of the worm double as does the final pitch of the worm.
Yakama Juice for example runs 3 sizes of round bottles and two rectangular. The round bottles are easy to accommodate but the rectangular bottles are not. It requires different rotational speeds for different sizes plus acceleration and deceleration profiles to move through the labeling and brushing stations.
With the available technology Feest declares that it simply makes no sense to spend the money on a non-servo machine if you plan to run different shapes.
Additional servo benefits
The servos continuously monitor torque at the drive as well detecting down bottles or jams and safely shutting down without damage to mechanical components.
Driving the feed screw with a servo also makes left-to-right or right-to-left product flow merely a matter of where you mount the servos. There are no longer sprockets gears or tensioners in the drivetrain.
Another recent K2 project involved converting a 12-station mechanical machine to a 24-station servo machine for running smaller diameter bottles -- or the original size bottles running EOP.
It seems there is no end to the flexibility K2 Engineering can derive from its purpose-built ELAU PacDrive SCL servo systems.
Companies in this article