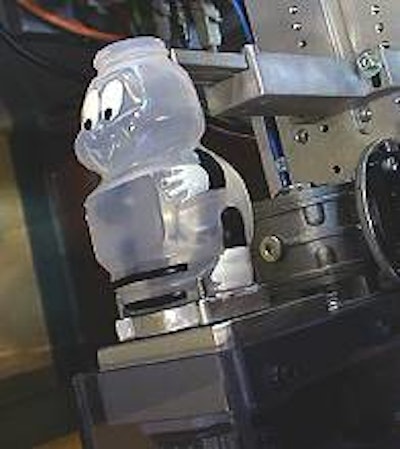 Initial BuzzyBee customers have been "Mom and Pop" beekeeping operations and church and school fund-raising drives.
Made of 100% virgin polyethylene, the whimsical-looking, bee-shaped container has a wide base to prevent tipping, flat front and back panels for labels, and holds 1 lb of honey. The durable pack is both collectible and reusable.
Hand explains that the packaging design idea originated, "A few years ago. I stumbled upon someone looking to sell fifteen 55-gal drums of honey. And being the entrepreneur that I am, I figured I'd find some profit buying that honey, filling up a bunch of those 'honey bears', and selling them to retailers. That was when the BuzzyBee container concept occurred to me."
After conceptualizing the design, Hand found a private container manufacturer who agreed to extrusion blow-mold short production runs (100ꯠ containers per run on an eight-cavity, proprietary mold system). Hand then tried to hand-decorate the containers. But the task proved daunting, so he searched for an automated method that could accommodate the rotational printing intricacy required. Eventually, he found Pad Print Machinery of Vermont and enlisted their assistance. Specifically, Hand wanted to find a way to give each container a handsome finish, while still keeping production and handling costs in check so that he could offer the containers to the honey industry as a cost-effective packaging alternative.
Pad Print's new series XE 13 printing machine provided the answer. Running a combined program with four axes, the machine prints two colors (black and white) 360º around the BuzzyBee container and completes the entire printing process in one operation, minimizing container handling.
Hand fills printed containers with 16 oz of honey, and manually seals them with pressure-sensitive inner seals and flat, flip-top plastic caps, sourced from multiple suppliers. The company is in the process of installing and starting up a fully automated, integrated filling line, including three label applicators. The new line, supplied by Swienty, a Denmark-based beekeeping supply company, is expected to be fully operational sometime in May.
Hand is also thinking beyond honey pots to a high-density polyethylene version of the BuzzyBee that could be used to package non-carbonated, honey-sweetened beverages. Hand says, "Kids love this container, and honey is a healthful product. We are now in the process of developing honey-sweetened drinks that can respond to that market potential."