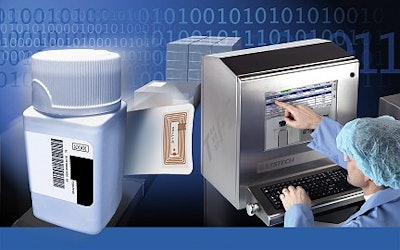 How can pharmaceutical companies protect their drugs and consumers against the growing blight of counterfeiting and product diversion? One option is the Total Integrated Packaging Solution (TIPS) Serialized Product Tracking. TIPS Serialized Product Tracking works in conjunction with serialized item-level RFID to protect products throughout the supply chain via a "parent-child" approach to the electronic-pedigree chain of custody.
Announced in November by Systech Intl., Tagsys, and SupplyScape Corp., TIPS Serialized Product Tracking is claimed as the first integrated solution to fight drug counterfeiting and increase patient safety.
Systech's TIPS Serialized Product Tracking manages all packaging line devices, encoding and recording Electronic Product Code (EPC) serial numbers to high-frequency (HF) RFID tags and reading the packages' bar codes. The software verifies all the data on the RFID tag and bar code, to establish a parent-child association for the item-level units when they are subsequently multipacked in a case and then palletized. The software contains production order, identities for units, cases, and pallets, and records of all scrapped packages.
After it's compiled in Systech's line management software, the data is exported to SupplyScape's programming that interoperates with higher-level information management such as Enterprise Resource Planning. TIPS can provide drug authentication and tracking throughout the supply chain and satisfies e-Pedigree compliance for requirements in states including Florida and California.
TIPS has been embraced by drug companies through five rollouts, three in the United States. Most are implemented at the unit level for bottles, but we are told one of the applications is a wallet-style blister pack.
Used for authentication
Two of the programs are in Europe, including one at Pfizer's plant in France for its Viagra, a highly counterfeited popular drug used by males. Pfizer plans to use RFID to authenticate all Viagra sold in the United States. This was discussed in some detail as the lead-in application mentioned in a article we published last month, Drug companies on different RFID frequencies, though until now we were unable to tie that application to the vendors involved. RFID Antenna has also been able to garner additional facts about that application (see below).
The TIPS sequence, which can be followed in an accompanying flow-chart graphic (see image 2), is as follows:
1. An RFID smart label is encoded with the EPC data and is applied to the bottle at a rate of 120 bottles/min.
(Editor's note: We have learned that TIPS will be running at 300 bottles/min in the near future.)
2. A Systech vision system scans the label's bar code; the serialized RFID data is associated with the stock-keeping unit identification from the bar code.
3. For case packing, the individually tagged cartons or bottles inside the multipacked package can be associated via a parent-child relationship. Again, RFID reader and vision scan of the UPC code permits the software to marry the two pieces of data.
4. Further downstream, another parent-child relationship can be established that ties the cartons and case RFID identification to the pallet load.
Tagsys provides the RFID inlays that are converted into smart labels. A printer-encoder-applicator affixes the bottles with a pressure-sensitive RFID smart label printed with the bar-coded data.
Track-and-trace serialization
This arrangement supplies track-and-trace serialization at multiple levels of unit, case, and pallet, and meets FDA 21 CFR Part 11 compliance.
"There are currently no mandates for RFID for drugs," says Systech director of marketing Joe Costa, "though some states require a pedigree [that can be paper or electronic.] There's a lot of talk that the FDA isn't happy with how things have progressed. Many manufacturers are looking to adopt such technology—they see it as if not enacted today, it could be in the near future."
For more on the topic of item-level tagging, see Item-Level Tagging: When Will It Happen and What Are the Obstacles to Overcome?, which was featured in the November-December issue of RFID Product News.
More on Pfizer RFID for Viagra
Here's what we've learned about the RFID application for Viagra packaged at Pfizer's plant in France:
* The RFID project began last June. Product was RFID-enabled starting in October, though the "go live" date was mid-November 2005.
* The Tagsys unit-level RFID inlays are a stock 5/8"x1" flexible form factor that carry 512 bits of memory (384 bits of user memory) and are affixed to Viagra's regular labels. The 2"x3" pressure-sensitive smart labels that are wrapped around individual 30- or 100-count bottles.
* Unit-level coding is done by a Domino Amjet laser coder and carries EPCglobal logo, RFID warning, and Data Matrix bar code.
* The unit-level tags are HF 13.56 MHz
* Case and pallet tags are UHF 915 MHz printed-encoded by Model R110PAX4 equipment from Zebra Technologies as part of an automatic print-and-apply system.
Companies in this article
Videos from All Packaging Machinery Corp.