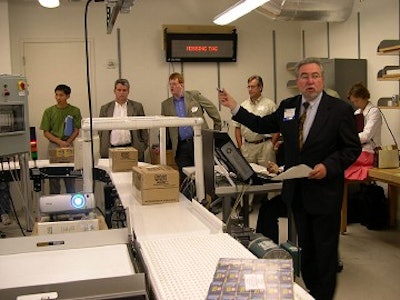 Outside, it was construction season at the University of Wisconsin-Madison campus. Inside the state-of-the-art Engineering Centers Building, however, the university proudly welcomed members of the media, academia and industry to its official RFID lab inauguration August 12.
Attendees were split into three groups to take turns viewing the following three stations:
• An RFID antenna design and performance analysis station—a large anechoic chamber with RF field measurement and analysis instrumentation and simulation software.
• A conveyor system station consisting of a loop with diverter, capable of 600 fpm operating speeds. At this station, a pressure-sensitive label with an embedded RFID tag was applied to different-sized corrugated cases then read at various speeds. The conveyor was equipped with a spur for cases whose RFID tags were not properly read.
• A portal/dock-door station where three grad students showed how RFID tags could be scanned on boxes on pallet loads. The students demonstrated different RFID tests. One test, for air gap analysis, demonstrated how easily the signal from a radio-frequency scanner could pass through a box with considerable "head space," in this instance small cases of plug-in air fresheners, whose packaging consists mainly of a paperboard card. Knowing what goes into a case can help a manufacturer determine the best place to apply an RFID tag.
A bonus tip from this editor: When you have a label with a sample RFID tag on it in your pocket, don't stand too close to the antenna-reader portal!
Patrick J. Sweeney, CEO of ODIN Technologies (ODIN technologies.com) delivered a keynote address focusing on four key lessons:
1. RFID is all about physics.
2. Make sure to develop infrastructure properly before determining middleware, integration, and applications.
3. A successful system is based on the interdependencies of physics, planning, and pilot testing.
4. When setting up the infrastructure, scientific methods must be used. "Trial and error is a recipe for failure," Sweeney said.
Sweeney praised the UW-Madison RFID lab, saying, "Where chaos, confusion, and calamity reign, a voice needs to create order. The UW lab has a foundation grounded in physics and scientific methodology."
The sold-out, five-hour event included a welcoming address by Raj Veeramani, director of the UW E-Business Institute and UW E-Business Consurtium, and Paul Peercy, Dean of the university's College of Engineering. Alfonso Gutierrez led the tours of the three stations. He's the director of the RFID lab and associate director for research and education, UW E-Business Consortium.
The UW RFID lab actively involves more than 40 leading companies from the UW RFID Industry Workgroup. Workgroup members meet monthly to share lessons learned and best practices regarding RFID strategy and implementation. Participating firms include consumer packaged goods companies and packaging vendors, such as 3M, Bemis Flexible Packaging, Green Bay Packaging, Harley-Davidson, Kraft Foods, Rockwell Automation, SC Johnson & Sons, and Zebra Technologies.
Collaborative research conducted in the lab will develop and transfer ideas to help Wisconsin businesses. The lab is also available to individual companies for sponsored company-specific projects. The university says the lab will benefit several key industries in the state, including packaging. The next UW-Madison event, RFID: From Strategy to Implementation, will be held Sept. 22-23 at the campus. For more information, visit www.uwrfidlab.org.
Companies in this article