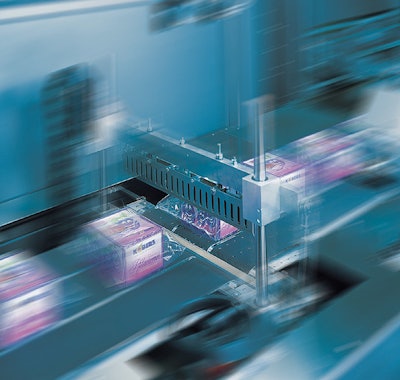 ELAU invites customers to lunch at PELV Exhibitor Lounge
PACK EXPO exhibitors who are current or prospective ELAU customers are invited to join the packaging automation specialist for lunch Monday Tuesday and Wednesday at the PACK EXPO exhibitor lounge. ELAU is also the 2005 lounge sponsor.
For free lunch tickets customers need only visit their ELAU account manager at ELAU Booth N-7312 during setup or during the show. Guests are reminded that show management requires they display their exhibitor badges to gain access to the lounge. The lounge is located in Room N-219 on the upper level of the North hall.
Special guide to the best machines at PELV
In addition ELAU is sponsoring special supplements highlighting examples of the most advanced packaging machines at the show. The supplement appears in tens of thousands of Packaging World Showcase issues and Packaging Machinery Technology magazines at PELV. To find the supplements simply open either magazine to the tab divider.
Copies are available at the following locations: PMT Booth CC-50 Packaging World booth C-3828 the PACK EXPO Exhibitor Lounge N-219 ELAU booth N-7312 and Schneider Electric Booth N-10308. PMT magazine can also be found at the entrances to both halls.
"Spin to win" an XM Satellite radio & subscription
Stop by Schneider Electric booth N-10308 to get your "Spin to Win" survey card. Get your card stamped at Schneider Electric ELAU Booth N-7312 and Hyde Park Booth N-10212. Then simply return the card to Schneider Electric before the drawing on Wednesday September 28 at 3:15 pm. You do not have to be present to win.
Say yes to robots…and no to "black box" controllers
A new robot demo at the ELAU booth shows just how simple it can be for packaging machine builders to add the benefits of robotic functionality to their designs without kinematic expertise.
That's because ELAU is introducing a library of pre-programmed robot software objects that only need to be parameterized. This allows builders to exploit their expertise in mechanical engineering and materials to produce innovative arms collation systems and tooling.
This up-and-coming trend first appeared at interpack 2005 in Düsseldorf in April. A number of secondary packaging machines were unveiled there that essentially were clusters of robot arms and servo collating belts. Owing to their extreme flexibility a number of these machines were sold and are currently being installed at plants in North America.
Packagers as well as machine builders also relish the fact that they are no longer obligated to learn and support costly proprietary robot controllers. Instead they can use the same IEC-conforming modular automation platform that runs the rest of the machine.
For gearheads: new motors
Users of ELAU's PacDrive automation systems will also benefit from the company's compact new SH motors being introduced at PELV. The servomotors are optimized for low inertia high dynamic response and other packaging-specific characteristics both performance and environmental.
And more!
And this is just the beginning. At the ELAU booth you'll discover lots of new software capabilities diagnostic tools and new applications.
You'll also hear the latest from drinktec 2005 the big beverage show that just concluded this past Saturday in Munich where ELAU demonstrated an innovative new servo capper machine design.
And don't forget ELAU will co-present on the Make2Pack standard initiative at the Conference at PACK EXPO Wednesday morning at 9:10 am. They'll join Make2Pack member companies Procter & Gamble Douglas Machine and Markem. Cost to attend the session is $75.
About ELAU
ELAU equips over $1 billion worth of the world's best machines annually with over 25 PacDrive systems already deployed in packaging machinery worldwide. PacDrive is the only truly integrated packaging automation architecture capable of performing the functions of PLC motion control robotics temperature control PLS MES data interface and more in a single standards-based software environment.
For more information visit www.elau.com or email info@elau.com.
Companies in this article