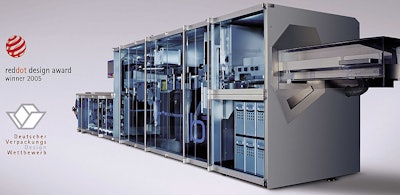 What's new at PACK EXPO this year
World's fastest thermoformer
Uhlmann Packaging Systems (PELV Booth N-9412) introduces the world's fastest thermoformer the Uhlmann B1880 with an unequalled output capability of 1300 blisters per minute. Launched in the US at the company's first annual pharmaceutical blister technology roundtable just prior to PACK EXPO the B1880 was the recipient of a 2005 VDI Red Dot award for excellence in design.
Features include ELAU's PacDrive automation system 2 or 3 lane operation excellent accessibility TouchControl operator guidance simple ToolControl changeovers safety glass doors integrated media guide and controlled discharge of waste air and heat to ensure a clean room atmosphere. Quick graphical analyses can be made via PDA in accordance to DIN 8743 or OEE.
Platen-sealing model features intermittent web index 4-column sealing station optimum sealing pressure distribution with air cushions heat distribution with precision temperature control final position monitoring of the station head stroke tool monitoring and cooled guide plates.
Roller sealing model features continuous web index position-monitored sealing roller with pendulum support that lifts when the machine stops and contact cooling of the web.
Robots make their move at PELV
For many applications robotics provide the ultimate in modularity quick changeover and reconfigurability. Long a staple of end-of-line systems they're now becoming more viable for secondary packaging applications. And a new IEC-conforming robotic software library is making it simpler for machine builders to develop their own robotic modules without needing to become kinematics experts.
At PACK EXPO Las Vegas visitors to ELAU (Booth N-7312) will see a dynamic robot demonstration. With just two servo axes the robot will deftly follow a cam profile recover without re-homing after an e-stop that takes the arm out of position and change operations on the fly.
And yet there is no dedicated robot controller. All the functionality is provided by an IEC 61131-3 conforming software Function Block library and runs on a standard PacDrive automation controller.
Matt de Luca an ELAU applications engineer from the company's Northeast regional tech center recently received training in the new robot software. "It's amazingly simple" says de Luca. "You just input what you want the robot to do into the appropriate Function Block. All the calculations to optimize how the robot axes move in relation to each other are done for you."
Robotic functionality is a clear trend in packaging machinery. ELAU's robotic software library allows the builders to focus on creating innovative robot arm mechanics – not complex kinematic algorithms.
The new designs are replacing conventional infeed collating cartoning and case packing functions with extremely agile robot modules that are infinitely adjustable to future format changes. The software library is diverse covering popular configurations such as SCARA articulated and portal. Point-to-point linear and circular interpolation and splines are all supported for path planning.
Related article: Robots take over interpack 2005
Maxed out on productivity?
The lead-off controls session at the Conference at PACK EXPO is titled "Maxed out on Productivity? Take Operational Efficiencies to the Next Level with Make2Pack."
The session will present business solutions through technology solutions that will equip engineering leaders to contribute to their companies' bottom lines. The Return on Investment (ROI) includes reduced Total Cost of Ownership (TCO) for end users as well as Total Cost to Develop (TCD) for machine builders.
A team of co-presenters will demonstrate a win-win-win situation for packaging machinery builders packagers and automation providers. P&G's Dave Chappell Douglas Machine's Joe Faust Markem's Fred Putnam and ELAU's John Kowal will discuss the strategic value to their companies of this fast-track project to develop the ISA 88 Part 5 standard.
Attendees will learn why some of the world's largest manufacturers of consumer packaged goods pharmaceuticals food and beverages support the Make2Pack initiative.
The Wednesday September 28th session runs from 9:10 to 9:55 am. Conference registration fees are $75 per session on site ($55 in advance prior to September 8).
For conference information: http://pelv2005.packexpo.com/content/solutions.html
Companies in this article
Videos from Douglas Machine Inc.