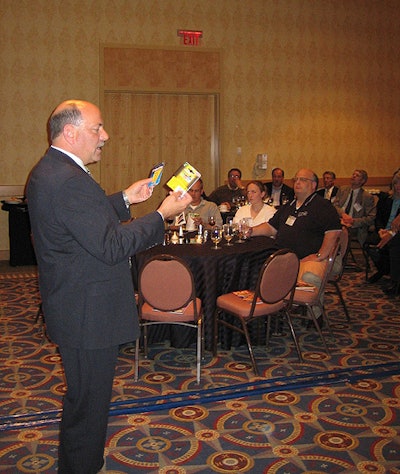 Increasingly package design innovations depend upon automated packaging machinery innovations
Nearly 100 packagers OEMs suppliers and a strong contingent from the local IoPP chapter gathered recently at Chicago's Hyatt O'Hare for PMMI's latest Partners in Packaging dinner topic.
There charter PMMI Supplier Member company ELAU Inc. displayed a range of new package designs -- many still available only on European store shelves – and highlighted the machinery designed to run them efficiently.
ELAU's John Kowal asserted the importance of the package design team collaborating early in a project with their packaging engineers and the packaging machinery builders. Reduced lead time is an obvious benefit of such interaction but the potential according to Kowal is much greater. He proceeded with several examples.
Borrowing from other industries
A German sausage manufacturer wanted to offer a more convenient re-sealable alternative to chubs for its spreadable "Teewurst." So it borrowed the use of polystyrene cups from the dairy industry.
Issues to be resolved included gas-flashing cup permeability and filling of the cups without air entrapment. With the help of OEMs Waldner and Buhmann machinery was adapted and the cups now outsell the original packaging even in tradition-bound Germany.
Hot market: single serve beverage brewing
Kowal termed the single serve home beverage brewing market a consumer "battleground" with coffee and tea blenders competing for Starbucks customer profiles in their own kitchens. With single serve packs ranging from 'pods' made of filter material to complex assemblies machine builders faced the challenges of designing entirely new classes of machines to assure successful product launches. The same was true for consumer electronics makers that were tasked with developing the required brewing systems.
Machine builders that invent new packages
It was a machine builder Hassia that invented the stick pack in order to create a new market for its machinery. "And there's nothing wrong with that" Kowal remarked for the benefit of machine builders in the audience.
Stick packs at first relegated to condiments such as sugar and salt have become popular for single-portion convenience foods especially children's foods such as pudding.
Hassia's latest twist? Dual chamber stick packs serve as an alternative to thermoformed twin cavity cups. The first example came from Müller Dairy UK's "Corner Squeezers" combining yogurt and fruit topping. But perhaps the most novel use in the presentation was Bayer's 'Aspirin Effect' product from Germany a powdered aspirin that dissolves on the tongue requiring no water.
Integrating marketing production and packaging
Another trend is the integration of manufacturing with packaging. SIG Combibloc's new Combishape line was actually conceived to give beverage marketers more control over their shelf presence. The system converts 40+ different carton shapes in-line with filling capping and end of line packaging for aseptic and fresh beverages. Shapes include ovals ellipses and 3- to 8-cornered. Systems have been installed in Spain and France but not yet in the U.S.
From Uhlmann world leader in pharmaceutical blister form/fill/seal machinery came a space-saving fast-changeover machine integrating tablet press with blister packaging cartoning and banding. Normally these are all stand-alone machines. The new machine is ideal for contract packagers short runs clinical trials and space-constrained facilities. At the opposite end of the spectrum is a new blister machine that Uhlmann bills as the world's fastest at 1 blister packs per minute.
And many many more
Just a few of several other packages covered in the presentation included:
• ACMA's new pocket pack for confections and throat lozenges a small carton with a lid that re-seals with a reassuringly positive snap and is available in a variety of interesting shapes. This is another example of a machine builder inventing a new package.
• Norden Pac's system for adding flair to the humble tube by molding shapes into the tube's end seal. And an innovative use for multi-material tube filling systems that put the familiar contrasting colors in tooth paste: convenience packaging for nontraditional products such as peanut butter and jelly.
• Harro Hoefliger's integrated transdermal patch production and packaging machines originally for nicotine patches have found new applications that include birth control adhesive bandages dosed with ointments and iontopheresis patches that use a small electrical current to consistently apply medication to the skin.
Consumer products and packaging machine makers can request a group presentation or attend an upcoming session of this presentation at ELAU's Chicago tech center by calling the author John Kowal at 1 847 490 4270.
ELAU equips over $1 billion worth of the world's best machines annually with over 30 PacDrive systems already deployed in packaging machinery worldwide. PacDrive is the first truly integrated automation architecture capable of performing the functions of PLC motion control robotics temperature control PLS MES data interface and more in a single standards-based software environment.
For more information visit www.elau.com or email info@elau.com.
Companies in this article