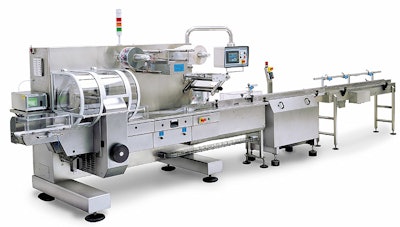 What's new at PACK EXPO this year
PFM flow packer takes "Make2Pack" path
PFM Packaging Machinery (PELV Booth C-826) has introduced its new Scirocco Flow Packer equipped with Vision System Robot configured for pharmaceutical packaging. The solution includes a newly designed cross-sealing system for air-tight seals that increases the Scirocco's speed to 200 ppm by optimizing sealing temperature pressure and dwell to maximize the sealing portion of a cycle.
PFM recognized that the pharmaceutical industry is embracing OMAC Packaging Guidelines and the emerging ISA S88-based Make2Pack initiative to address changing regulatory requirements in a standardized way.
Because its control platform is ELAU's PacDrive automation system the Scirocco inherently supports all applicable OMAC Packaging Guidelines. And the PacDrive system is already used extensively in the pharmaceutical industry.
They have also taken advantage of PacDrive's change detection software modular programming framework and use of pre-tested reusable software objects from its extensive IEC-conforming Function Block libraries to reduce engineering costs while simplifying validation and GAMP compliance.
The Vision System Robot is used to locate and pick randomly spaced products from the transport belt and present them precisely to the wrapper. A register mark based splicing system allows on-the-fly reel changes at full speed.
IMA's BFB CP18 packs cartons and trays into cases
IMA North America PELV Booth N-9117 will exhibit its new Model BFB CP18 automatic side-loading case packer. The design is a new concept ideal for inserting individual/bundled cartons or a tray into a case for cosmetics and pharmaceutical products.
The BFB CP18 features stacking in front of the main pusher using the cantilever design for an extremely compact and accessible machine. Its horizontal case magazine makes loading easy while arms assure perfectly squared cases during insertion. It takes just a few minutes to change tool sizes and fine adjustments are made via digital indicators. Case closure is by adhesive tape or hot melt glue. In addition the show machine will feature a product tracking system.
IMA is pleased to announce ELAU as its partner for its End of Line Division machine automation using the PacDrive system to achieve maximum flexibility changeover speed and dependability. Examples include the trend-setting 6-axis Flexa servo cartoner introduced at Interpack in April.
ARC reviews ELAU acquisition by Schneider Electric
Schneider Electric (PELV Booth N- ) announced in May its intent to purchase the outstanding shares of ELAU (PELV Booth N-7312) a packaging machinery automation market leader. As a wholly owned autonomous Schneider Electric company ELAU will define the business model to achieve Schneider's growth strategy in the increasingly global packaging automation market.
In a recent ARCwire report analyst Sal Spada of ARC Advisory Group commented: "Through ELAU's thought leadership in machine control they have not just grown their business but have had a major impact on expanding the entire packaging machinery market.
"Servo-based technology is simply more accessible to the machine builder as they have used an innovative strategy that leveraged embedded software intelligence networking and industry standards.
"Under the Schneider Electric umbrella we expect ELAU to retain this entrepreneurial spirit while leveraging the global infrastructure and financial backing of the organization to continue to expand their business more rapidly globally."
ELAU's core technology enables over 25 installed packaging machines worldwide to deliver the increased efficiency and flexibility demanded in today's supply chain. Schneider Electric is a $12 billion company that supplies quality electrical devices to implement automation throughout the enterprise. The integration of ELAU's domain expertise and Schneider's worldwide resources gives packagers an unprecedented ability to leverage their packaging assets as a competitive advantage.
Companies in this article