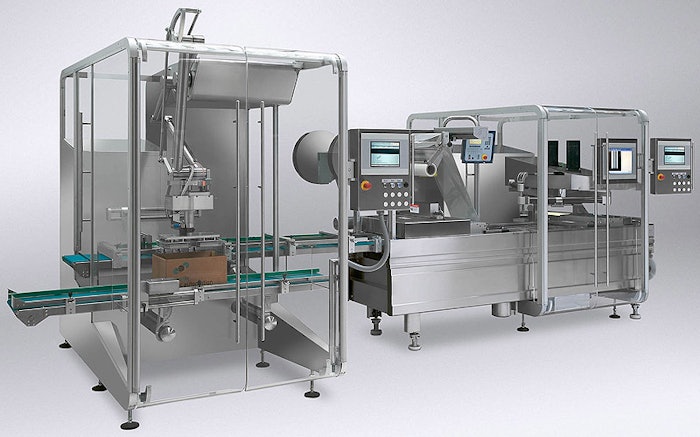 What's new at PACK EXPO this year
Pester's new 'pac robots'
Pester USA (PELV booth N-10328) is introducing 'pac robot' modules using ELAU's new PacDrive robotic software library to expand the flexibility and throughput of pharma cosmetics and food packaging lines.
The pac robot 3 will be demonstrated with a PEWO-pack 450 Compact bottle wrapper for the health & beauty care industry (e.g. shampoo bottles). Continuous product guidance allows gentle handling of up to 300 unstable bottles per minute.
As bottles are discharged from the labeler they enter the collating unit where the pac robot 3 picks two sets of 6 bottles indexes them 90° and places them on the wrapper's infeed belt. Bottles are inserted into the servo-controlled single-lane sealing unit at up to 50 cpm and wrapped and sealed in PE film before entering the new PEWO-therm shrink tunnel.
The new pac robot 4 is the heart of a top-loading robotic cell. The robots can also be integrated in third party machines.
At April's Interpack show a pac robot 4 loaded cartons into trays produced by a thermoformer. A vision system communicated the cartons' orientation to an ELAU PacDrive controller which performed the calculations for the robot to precisely pack the trays at speeds up to 100 cycles per minute.
Waechter's delta picker and case erector
At the Stiles Machinery booth (PELV C-5534) see the new family of Waechter case erecting and pick-and-place modules using ELAU's PacDrive servo technology to handle a wide range of formats without costly change parts.
Mechanically the new 30 cpm Tablomat C case erector design is compact modular and mechanically simplified with all processes integrated on one level. Flap tuckers are servo driven and much easier to optimize than gearbox driven designs. Servo-driven format changes eliminate change parts all part of Waechter's design philosophy of reducing its customers' operating costs.
The 2-axis Delta Picker is a flexible and highly dynamic alternative to conventional linear pick-and-place systems that can traverse up to 60 complete circles per minute. Its powerful kinematics leverage ELAU's extensive PacDrive robotic software library so profiles are readily generated to handle a range of products formats and both single and multilayer packaging configurations. The Delta Picker is easily synchronized to other servo driven infeeds conveyors and sortation systems.
Waechter is represented by Stiles Automated Packing Systems a division of Stiles Machinery of Grand Rapids Michigan.
PSC Mateer Burt servo filler fulfills coffee market trend
The trend in coffee & tea is to offer single serve coffee in a variety of flavors and styles to accommodate all preferences.
The Kuerig brand is the leader in single serve coffee distribution with production licensed through a number of coffee roasters. The application requires filling 3 to 5 grams of tea or 8 to 15 grams of coffee into individual pre-packaged coffee filters that are used in brewing machines.
Pneumatic Scale's Mateer Burt Filling System (PELV Booth C-1000) was selected by Van Houtte Coffee a Canadian Kuerig licensee that has installed numerous filling systems from PSC Mateer Burt.
The filter cups are de-nested filled and sealed four at a time on 3-inch centers. Individual servo-driven augers fill the filter cups. ELAU's PacDrive SCL servo systems have proved ideal for the machine's close center distance and torque/speed requirement.
Cycle rates of 35-40 cpm per head equate to machine output of 150 to 160 cups per minute. The filling system is supported by a frame with a carriage that allows an operator to move the system in and out of the filling zone for quick changeover between four varieties of coffee and several varieties of tea.
About ELAU
ELAU equips over $1 billion worth of the world's most advance packaging machines annually with over 25 PacDrive systems already deployed in packaging machinery worldwide. PacDrive is the first truly integrated automation architecture capable of performing the functions of PLC motion control robotics temperature control PLS MES data interface and more in a single standards-based software environment.
Companies in this article