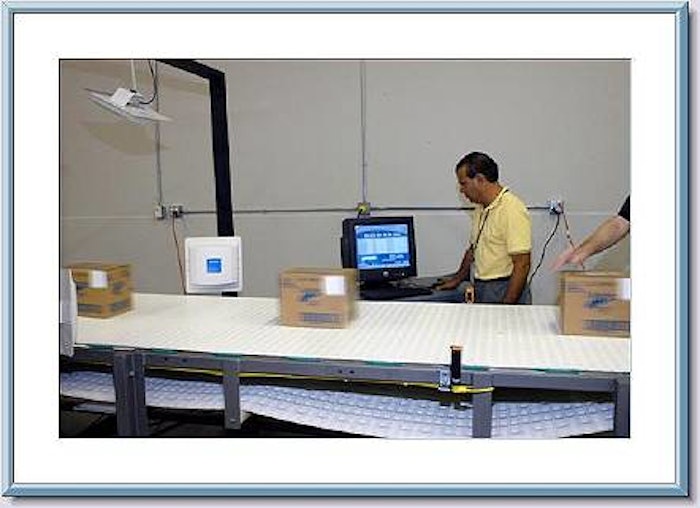 The Coleman Company has installed a specialized RFID system at its distribution center headquarters in Wichita, KS, that was integrated by ADT Security Services, a unit of Tyco Fire & Security. The specialized RFID reader solution can detect untagged or improperly tagged cases placed on a conveyor belt at its distribution center. Operational in December 2004, it helps the manufacturer of outdoor equipment and camping gear meet Wal-Mart's RFID mandate.
"We tested readers from three RFID vendors and ADT's Sensormatic[r] intelligent reader came out on top," says Jim Hopper, continuous improvement—senior black belt, at Coleman. "The specialized solution delivered by ADT allows us to move our products as efficiently as possible through our RFID process, and it strengthens our relationships with our retail partners by ensuring that only properly tagged items leave our facility." The installation is Coleman's entry into RFID.
How it works
The system is set up along a conveyor that branches off a main conveyor at the DC. It's located downstream of an RFID tag encoding station with manual application of a naked or unprinted tag.
The set-up from ADT includes a photoeye that senses a case as it moves on the conveyor belt. The sensor signals the RFID reader to scan the Class 1 RFID tag as the case reaches the four-antenna portal. At this point the system expects to find an EPC compliant tag. If there is no tag or the tag is unreadable, the reader signals to the conveyor belt to stop. This allows a Coleman employee to remove the case or to place a new working tag on it. The case is stopped right at the portal to make it easy for the operator to know which case needs to be removed.
Smart reader and GPIO adapter
At the heart of the system is ADT's specialized Sensormatic Agile 2 Reader, which sports a General Purpose Input/Output (GPIO) adapter. Randy Dunn, director of ADT's RFID division, says the adapter enables the reader to interact with the warehouse system in to signal a variety of operations that can enhance the use of RFID. These can include causing a conveyor belt to stop, flashing a light to indicate a good, bad or weak tag, or sending different items to different parts of the DC. It has an RS232 connection and offers two input and three outputs. Dunn says that in the coming months there will a lot more interesting applications with the smart reader and GPIO.
Coleman conducts a final verification after the cases are palletized.
Coleman currently RFID tags one product for shipment to Wal-Mart.
Note: The photo shows a set-up similar to the one at Coleman.
Companies in this article