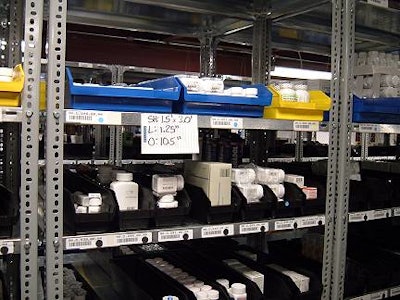 Cesar Castillo, Inc. (CCI), San Juan, Puerto Rico, has adopted the Sybase RFID Enterprise data repository and integration platform as its inventory management system for its launch into an in-house item-level RFID program.
A wholesale distributor and third-party logistics (3PL) provider, CCI operates a mid-size consumer product distribution center that manages inventory, distribution, and logistics for pharmaceutical manufacturers. The company is committing to a program where it applies RFID tags to pharmaceuticals and reads the packaged items' bar-coded shelf locations to electronically capture item location and quantities during receiving, stocking, and shipping. Having these items tagged also means that inventory checks will take a fraction of the time.
"Because we handle such high volumes of inventory, it is essential that we have the highest level of inventory control, while ensuring that we keep the possibility of human error to a minimum to make the most efficient use of our staff resources," says Dr. Rafael Moreno, CCI's business development director. "By using RFID Enterprise as the basis for our RFID system, we can reduce manual entry, increase speed, and ensure accuracy of physical inventory, allowing us to better serve our customers."
Working in conjunction with Sybase's RFID Anywhere product at a level below RFID Enterprise, the software will collect, filter, translate, and route RFID data into a useful form for CCI. RFID is expected to improve internal traceability in CCI's first-in, first-out process flow.
Strategic advantage
"We see RFID as a strategic advantage," explains Moreno, who notes that many customers have expressed an interest in RFID. "First to do some internal applications and later to establish ourselves to spearhead this technology. And we will add additional value to our current pharmaceutical customers when they start deploying, either for internal requests to combat counterfeiting or in response to future FDA regulations. We want to ensure we are ahead of the curve in understanding RFID, getting acquainted with it, and optimizing our operations around it."
Because of CCI's location and positioning as a distributor to a number of local small-volume markets, it operates with customers in shipping product at a level below pallet or case level.
"Because we have less capital and less profit than our counterparts on the mainland, we have to become very smart about the ways we can make our supply chain more efficient," Moreno says. "The way we will implement RFID is in a closed-loop operation. We decided to go against convention in terms of not tagging at the case or pallet level or with dock-door portals. Instead, we will use it at the item level where it adds the most value for us." He points out that that for certain pharma products, a single bottle could be more valuable than a pallet load of consumer goods.
After pallets of trayed or cased products are received, they will be unpacked and tagged individually at the item level. Products tagged will most likely be prescription drugs rather than over-the-counter medicine, according to Moreno. Initial items will be tablets and other solid-dose products, such as 100-count bottles of capsules, he adds.
"The selection is made considering the unit cost, security concerns, and product movement," says Moreno.
Eventually CCI will test liquid products, he notes. "At some point, we will consider expanding RFID to all our product lines." Those include metal (foil) blister packs, metallized pouches, and other formats that may prove challenging for RFID.
While some details remain to be finalized, many of Castillo's plans for RFID are set. In mid-June, Moreno was finalizing specifications for tags and readers, which he expects to finish up by the end of July. Implementation is set for mid-August.
CCI will use preprogrammed, reusable 915 MHz UHF ISO 18000-6 RFID tags and readers from Intermec. The RFID tags will be affixed to individual bottles manually using elastic bands similar to those used for airline baggage tags. Sybase is considering specifying a backing or sleeve of some sort, possibly of polyurethane foam or a similar material, that will provide air-gap spacing between adjacent tagged bottles to improve readability. The tags will be applied during receiving and removed after the orders are picked for shipment just before the product leaves the warehouse. As of mid-July, CCI was planning to purchase between three to five Intermec readers.
Within CCI's 275ꯠ sq ft facility, the 3PL pharmaceutical portion includes 40ꯠ sq ft of storage made up of 50-ft or 100-ft long rows of 6- to 7-ft-high shelving. In total, CCI maintains 10ꯠ storage locations for its bins, a count that matches the number of RFID tags CCI will launch with. Moreno says CCI turns over its inventory every three weeks.
Why choose UHF rather than HF that seems to have solid interest in the pharma supply chain?
Moreno responds that HF requires a close distance between product and reader, "so UHF is more like a bar code substitute. It's easy to build an RFID solution by substituting for a bar code, but then it doesn't add value." UHF also fits in with CCI's plans to scan an entire bin's contents at once.
CCI's RFID process
The packages are unpacked by hand from trays or cases. A hand-held bar-code scanner reads the product's UPC code, then associates that scanned product to its identity from within Castillo's existing Warehouse Management System database, according to Moreno. Then the RFID tag is applied to the item. A reader-antenna located between adjacent tables will initiate and commission the tags; Sybase's RFID Anywhere program in conjunction with its RFID Enterprise software will associate the UPC code with the RFID tag's preprogrammed identification.
The containers are placed into three sizes of plastic totes or bins that are generic in that they have no individual identification. The bins are stored on shelves in the warehouse where the shelf location has a permanent bar code label to identify its location. At the time of storage, the bar code is scanned for that fixed shelf location label and the RFID tags of the contents are read using a handheld unit to associate those particular products to that bin location.
"We thought about tracking by bin, but decided it's easier to scan one serial number to obtain what we need to know," Moreno says. "We don't need to know the bin, we already know during receiving what product was received, the product count, and batch numbers."
Provides a 'which' hunt
"Before, we conducted manual counts of bin contents and associated that with its location," explains Moreno. "We'd know that 34 units of product X is at location Y. Now we will know that 34 units of product X are at location Y, with individual serialized identification of each item. Not only will we know exactly how many bottles are there, but which particular bottles."
The difference is crucial, as it eliminates much of the manual errors and inefficiencies that creep into product-tracking databases. Moreno says, "We're moving from an approach that's data-entry intensive to one that's data-accuracy intensive."
Major reconciliation benefits
One of the major benefits of RFID will be realized during regular inventory reconciliation checks, according to Moreno.
"The only way to do that now is to physically count the inventory, which is labor intensive," he says. "With RFID, we expect that the worker can pick up the bin and scan the contents at once. A second scan can confirm the count, and we can then manually correct any discrepancies that may arise. We also expect to avoid redundant counts by two different crews as we have done in the past for reconfirmation of the numbers."
Moreno expects reconciliation to be two or three times faster with RFID.
"But it's far more than that," Moreno adds. "There are at least five other elements that will be improved." Those are data entry enhancements, error reduction, less manpower, faster counts, and higher confidence in the numbers.
"Receiving and stocking is the heart of the operation," says Moreno. "If it gets screwed up there, then no matter how good or sophisticated your WMS is, it's still going to be garbage in, garbage out. RFID will establish for us a higher level of confidence in those operations."
It's also expected to enhance CCI's checking time ahead of outbound shipping, when customer orders are confirmed against the products picked and the pick list. Castillo does a double verification that includes a visual reading of the lot number and expiration date, both of which Moreno says can be tiny and difficult to read. By entering the order number into the system and positioning the items by an RFID read station at that point, the system can read all the tagged items at once including the stored lot and expiration information and corroborate the order without visually reading each bottle by a worker.
Admittedly, not all items will be tagged, but the RFID assist will be welcome in this area.
"There's a high likelihood that some orders will have all tagged items," says Moreno, "and those orders can be confirmed 100-percent automatically by the system." In a best-case scenario with RFID, Moreno believes they can reduce checking time by 50%.
The timing for CCI's upgrade into RFID is intentional: Moreno says they will be accepting a major new contract that will double the number of orders it ships within a year. "That makes now a good time to implement RFID."
What about payback with the technology?
"Absolutely RFID is a payback for us," Moreno insists, though he can't quantify it. In one instance, Moreno expects payback with RFID because CCI will not have to double its headcount to support the impending higher volumes.
Moreno says another benefit of RFID is that it adds a layer of internal track-and-trace security for sensitive items.
Moreno also expects some direct, intangible benefits.
"There's a strong benefit for our customers to see CCI as a leader, and have their global operations view Puerto Rico as a testing ground of integration issues that RFID requires."
Already, Castillo receives Purdue Pharma OxyContin RFID tagged.
"For companies like Purdue Pharma, whom we have had discussions with, we could perhaps add some value to their supply chain by engaging in testing with RFID that others cannot provide," Moreno says.
What else is ahead
He also expects that CCI will be positioned for future enhancements, such as detecting a product improperly moving out of the warehouse. "With our experience by then, that would be a relatively simple next step for us to do," he says.
Moreno points out that CCI's picking process is not automated, so they couldn't apply RFID to that operation. "But that's our next step," he divulges, "to automate picking and then applying RFID to it.
We look to operational benefits, to test to see of RFID is feasible, and to quantify the benefits. We can decide further along how to expand RFID to all our products in other operations and maybe move into pallet-level RFID."
Moreno says the test pilot will be live in August. The pilot will require two to three stationary readers and several handheld RFID readers. With an eye toward its future expansion in RFID, Castillo is bringing onboard a local integrator that will partner with them.
While it won't be a magic pill, RFID promises much for Cesar Castillo, and Moreno is going to do all he can to see that CCI realizes the maximum benefits. That's a prescription for success.
To read the CCI's RFID Lessons Learned sidebar accompanying this article, please click here.
Companies in this article