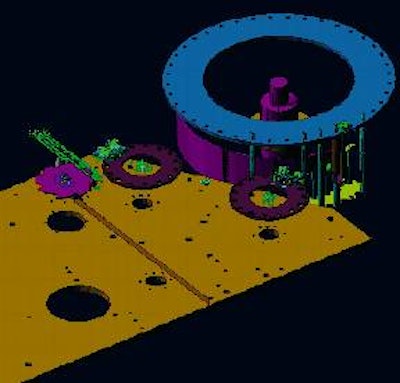 The forum included presentations by packaging machinery OEMs Kosme Group, KHS Kisters, and Sapal SA. All have used VPE in their machine-building businesses.
What is VPE? Essentially it's a means of simulating, via software and computers, the impact of loads and stresses on mechanical systems and components without having to physically build those systems and components. Shown here is an illustration of how Kosme, for instance, was able to simulate the behavior of a lift cylinder on a rinser/filler/capper without having to build it first. Other portions of the Kosme presentation, delivered by Kosme technical director Stefano Grassi, showed similar virtual diagrams of cold glue labeling stations, pressure-sensitive labeling stations, pump sprayer sortation tooling, and more.
Among the benefits Kosme has gained from VPE, said Grassi, are these:
• Project development time can be shortened from six months to five by not having to build a physical prototype.
• Kosme engineers have gained a better understanding of already installed systems.
• Kosme engineers gain a better understanding of the physics of the machines they build.
For more on VPE, visit www.mscsoftware.com.
Companies in this article