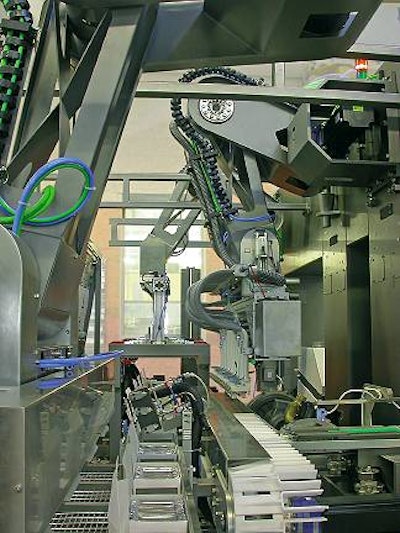 From interpack 2005!
Here are just a few of the world's best new packaging machines that were introduced at interpack. As we write this reports of more new machines are being filed for the next issue of Packaging Automation the digital magazine from Packaging World sponsored exclusively by ELAU.
Somic's modular wrap-around packer
SOMIC (Hall 13 Stand D04) demonstrated the highly modular WA 414-w/3 wrap-around packer for display cartons folding boxes and trays. Highly adaptable it is a universal design that's being used to pack metal cans pouches candy bars and more.
All collating cartoning and sealing processes are performed on one working level to aid operation and visual troubleshooting. Four robotic modules are mounted overhead to maximize freedom of movement and minimize footprint.
The robots can handle an infinitely variable range of package formats. A range of turning and gripping solutions offers precise gentle product handling. Dual servos on grouping belts adjust the distance between lugs automatically for tool-less format changes.
This highly flexible packer is equipped with 14 servo axes controlled by ELAU's PacDrive automation system which performs all feeding changeover and robotic functions. The unit demonstrated at Interpack is capable of packing over 500 candy bars per minute.
There are no chains to lubricate or adjust. Instead toothed belts and powerful high speed vacuum belts are used to transport primary packages blanks and filled packs. Instead of a chain system with paddles one-clamp cart-mounted quick change collation units are set up to handle popular multiples.
Cavanna: robotic cartoner
Cavanna's Cartesio robotic division (Hall 14 Stand B30) demonstrated its new vertical cartoning concept for candy energy and cereal bars the G35. A robotic island consisting of three robotic arms streamlines display carton forming transfer product collation and closing along with a patented product insertion device.
G35 enables tight integration with the upstream flow wrapper and a presents a compact space-saving footprint. Quick changeovers are supported by servo-automated belt adjustments that eliminate change parts and fine tuning.
Despite the kinematics required to run three separate 3-axis robot arms a single PacDrive C400 automation controller from ELAU controls all them all as well as the servos driving the machine functions.
Pester's new pac robots
Highlights at pester pac automation (Hall 15 Booth B32) included two new robots. Pester known for its pharmaceutical end-of-line packaging expertise is creating a new range of applications in cosmetic and food packaging for which these robots are equally well suited.
The two-axis 300 bottle per minute pick-and-place pac robot 3 with 30 kg payload capacity was demonstrated in a PEWO-pack 450 Compact film wrapper picking up and turning 6 packs of cosmetic bottles for presentation to the wrapper.
A pac robot 4 with three conventional servo axes and a linear motor was applied downstream of a thermoforming machine typical of medical products or fresh food packaging applications. The robot has a cycle rate of up to 100 cpm and payload of 800 grams.
Both robots are controlled by a single ELAU PacDrive C400 automation controller. In the case of the pac robot 3 it's the same controller that runs the wrapper. There is no "black box" robot controller hardware with proprietary software – instead control is performed by an IEC 61131-3 conforming Function Block from ELAU's robotic software library.
Waechter's delta picker and case erector
Waechter (Hall 13 D14) has introduced a new family of case erecting and pick-and-place modules using ELAU's PacDrive servo technology to handle a wide range of formats without expensive change parts.
Mechanically the new 30 cpm Tablomat C case erector design is compact modular and mechanically simplified with all processes integrated on one level. Flap tuckers are servo driven and much easier to optimize than gearbox driven designs. Format changes are also servo-driven and require no expensive change parts all part of Waechter's design philosophy of reducing its customers' operating costs.
The 2-axis Delta Picker is a flexible and highly dynamic alternative to conventional linear pick-and-place systems that can traverse up to 60 complete circles per minute. Its powerful kinematics leverage ELAU's extensive PacDrive robotic software library so profiles are readily generated to handle a range of products formats and both single and multilayer packaging configurations. The Delta Picker is easily synchronized to other servo driven infeeds conveyors and sortation systems.
Waechter is represented in North America by Stiles Machinery Inc. of Grand Rapids Michigan.
Mohrbach's new box erector
Mohrbach (Hall 14 Booth B06) has introduced a new high-speed case erector that can run up to 30 cycles per minute compared to 20 cpm for conventional designs.
The manufacturer of erecting filling and closing solutions also introduced the new single station Model MKV 550 that can erect over 120 cartons per minute. Previously this speed required much larger footprint dual station machines.
A continuous motion vertical carton filling module uses a no-touch gentle handling method as an alternative to pick and place for sensitive products.
These Mohrbach designs all use ELAU's PacDrive automation systems for integrated control.
About ELAU
ELAU (Hall 7a Booth E17) equips over $1 billion worth of the world's best machines annually with over 20 PacDrive systems already deployed in packaging machinery worldwide. PacDrive is the first truly integrated automation architecture capable of performing the functions of PLC motion control robotics temperature control PLS MES data interface and more in a single standards-based software environment.
For more information visit www.elau.com or email info@elau.com.
Companies in this article