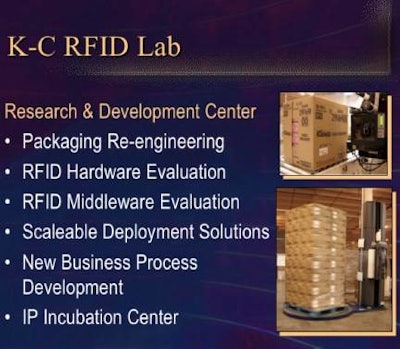 Kimberly-Clark Corp., one of Wal-Mart's Top 100 suppliers, was an early adopter of RFID. K-C's Mike O'Shea, director, corporate Auto-ID/RFID strategies and technology and a 25-yr supply chain veteran at K-C, spoke at the RFID World conference held in March 2005. O'Shea shared some of the consumer packaged goods company's lessons learned in RFID.
Actually, calling the company a CPG is a misnomer since one-third of what K-C makes is nonconsumer products. These include healthcare products such as surgical gowns, so they prefer being described as a health and hygiene company, O'Shea pointed out.
The week before, O'Shea had returned from a trip to Singapore, which he called "the most RFID-enabled society I've seen."
Meanwhile, stateside and elsewhere, RFID continues to evolve, O'Shea said. "We're getting beyond compliance to bringing value to end users." He adds that there will be "pain before we get to return-on-investment. We've put a fair amount of sweat equity into this."
He explained that the vision for RFID was to drive value for the consumer, though that may be indirectly in terms of having products available when consumers want them. He also says it holds the promise of ensuring products and raw materials are secure and safe.
K-C's RFID timeline:
2001—Joined Auto-ID Center
2004-Customer RFID pilots
2005-Deployment
"It was in 2003 that we saw the business case potential within our four walls," he related. That year, K-C created CAST—Corporate AutoID/RFID Strategies and Technologies group. CAST is a multifunctional group with a long-term strategy that comprises dedicated packaging engineers focused on RFID, both within K-C's four walls and with customers.
"RFID is not about technology," claimed O'Shea, "it's about how to reengineer your business practices. And that's for K-C Global, not just K-C U.S."
In 2004, K-C focused on the infrastructure, and pilot efforts continue into 2005.
As RFID Antenna reported last month, O'Shea does not feel there are enough trained people to support the need for them in RFID. The company's proactive stance includes working with several universities with packaging programs and internships.
The dirt on the dirty lab
O'Shea also disclosed information on K-C's 5ꯠ sq ft RFID research lab, "our second lab," O'Shea said. While the word "lab" conjures up a clinical, antiseptic image, K-C has designed its RFID test facility to be just the opposite. He noted that all of its distribution centers (DCs) are different, "Minnesota in winter is different than Arkansas in summer."
Thus, K-C has designed its RFID test lab to be "dirty" with electromagnetic waves and other environmental influences to better mimic real world environments. It's located within the company's Neenah, WI, DC, next to a 100-ft-long, 800 diapers/min baby diaper production line, not to mention about 45 forklift trucks with 915-MHz wireless terminals in use.
The test lab includes a 270'-long conveyor. O'Shea says the minimum speed it needs is 250'/min conveying to match its case-packer speeds, while its customer's goal (read that as Wal-Mart) is 600'/min. The company uses the lab to evaluate hardware and to provide testing for clients.
Change can be messy
"At K-C, we like to say that the only person who likes change is the baby with a wet diaper," he said to laughter.
Seriously, he added, "We need to do a better job to educate those in the value chain. As an industry, we've created some false expectations." He offered the following observations:
This is not packaging 'pack and play' technology, 'RFID in a box' is not that simple.
We foster deployable, scalable RFID solutions.
Return on investment is unique for every company.
Keep one foot in the present and one in the future.
Don't turn over the 'keys to the car' to your vendors—stay involved.
Launch and learn—learn by doing.
The size of the benefit you'll find in RFID is equal to the amount of work you do to find it.
Successful deployment is driven by changes in business process, not by technology.
Build your own intellectual capital.

Elaborating on that last point, "we're aggressive," O'Shea said. "We've filed a dozen [RFID-related] patent applications in 2004 and one has been granted, which is part of our investment." K-C keeps an open mind; O'Shea stated that even forklift drivers have come up with sound ideas.

Next month, we'll bring you more of K-C and O'Shea including more updates from last week's RFID Journal Live! conference.