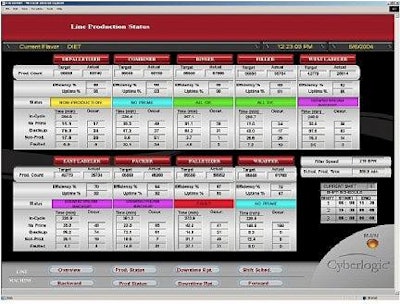 So what is OPC? OPC stands for Object Linking and Embedding (OLE) for Process Control. OPC is a worldwide standard of application interface in industrial automation software and the enterprise systems that support industry.
When a soft drink bottling company needed to be able to track the ingredients and components in each bottle of their product back to their original sources, the company turned to a system from Cyberlogic Technologies, located in Troy, MI. Cyberlogic's Enterprise Information System uses OPC technology to keep production moving by bringing data and software together.
A key benefit of this system is the ability to collect, store, and analyze traceability information for the plant. From a code printed on each bottle, the system can determine which batch of syrup was used and where the water, bottle and cap came from. If there is a concern about the quality of any of these components, the system can generate a report detailing all of the finished products that used the ingredients in question. In the event a recall is needed, the plant can identify the specific bottles to be pulled and where they went. This can save the supplier thousands of dollars by narrowing the recall to only the suspect containers, rather than having to pull the entire lot.
Minimize downtime
The system also plays a crucial role in maintaining production during the daily operation of the plant. In a high-speed bottling plant, even a short stoppage can cost dozens of cases of product. The Enterprise Information System provides a window into the production status, keeping plant personnel constantly informed of what's going on.
On the floor, the operator displays provide a graphical representation of each line, with real-time animation showing the status of each machine or conveyor. As problems occur, diagnostic messages are displayed on the screens, so the operator knows not only where the problem is, but also the exact nature of the fault. Downtime incidents due to faults, scheduled maintenance or any other reason are stored on disk for retrieval and reporting. Other screens show production goals, actual values and efficiencies.
Using OPC as the data gathering technology provided both the efficiency and rapid deployment that was crucial to the success of the project. The results for the bottling plant: a clearer picture of what's going on in the plant, better record keeping and improved production efficiency.
This information was extracted from the complete article, which was published in the February issue of Automation World.
Companies in this article