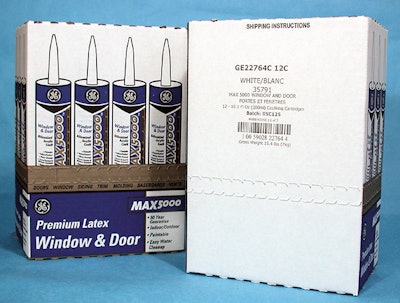 Reliability is the biggest challenge we had in putting codes on shippers in our plant" says Steve Dominik. He is plant engineer at General Electric's Advanced Materials-Sealants & Adhesives plant in New Smyrna Beach FL. "Our old equipment had a lot of moving parts and wasn't reliable."
That was a major problem for Dominik who continues "You shouldn't have to stop a line for an ancillary piece of equipment like a printer."
The plant packages tubes of caulk for the consumer constructions and industrial markets. Twelve tubes of caulk go into a corrugated shipper. The plant packages tubes in a standard shipper with different graphics for various customers. And the customers require different codes both alphanumeric and bar codes.
Faced with a reliability issue Dominik began to assess the industrial configuration of thermal inkjet technology. "I was familiar with the HP technology for years as desktop printing technology" Dominik explains. "I am particularly impressed with the reliability of the printers."
Dominik and his peers at the plant arranged for a demonstration of equipment using HP thermal inkjet technology. It was in an industrial-quality configuration engineered by RSI Print Systems Gaithersburg MD. RSI set up the equipment for a demonstration in the GE plant. "We saw first hand how this set-it-and-forget-it technology could work in our plant" Dominik said.
The RSI-engineered equipment replaced two different coders on a packaging line. One was a print-and-apply unit using a heat-transfer ribbon and contact technology to put bar codes on labels that were then applied to shippers. The other was a valve inkjet system for putting human-readable codes directly onto shippers. GE had to use both to deliver what its customers demanded.
The coding task's complexity gave Dominik reliability headaches both in terms of complicated changeovers and maintenance. The valve inkjet coders would require expensive rebuilds to maintain quality.
Duplicates existing format
Dominik's goal was to duplicate existing codes using only one unit. The unit had to print all information—including bar codes—within the 4 by 4 inch dimensions of the previous pressure-sensitive label. And the codes had to be directly on the shipper.
RSI engineered a single unit using eight HP thermal inkjet print heads on a common frame. It is adjacent to a conveyor downstream of the case packer but before the palletizer. The unit needs about 1?16 inch clearance between the print heads and the shippers as they pass by. A controller sequences the pattern in which print heads fire to deliver a "seamless" code.
A PC-based controller gives operators a WYSIWYG (what-you-see-is-what-you-get) view of each code on a screen. It holds all codes in memory and the operator simply keys in the distinct batch code for each run. The task takes seconds compared to the lengthy set-ups for the previous coders.
Installation of the inkjet system from RSI Print Systems delivered quicker changeover times. "Usually we needed 5 to 10 minutes to changeover the old printers but sometimes we needed as much as 30 minutes" Dominik elaborates. "We actually had to stop the line to get the printers set up for a new run. It was so complicated I'm not sure I could do it today."
The plant runs two shifts a day five days a week. It is not uncommon to have as many as three changes during a shift.
To its customers General Electric's change to the new system was "transparent." GE staffers use a hand-held scanner to verify that codes are readable. "We haven't had any negative comments from our customers on the bar codes' quality. We are proactive in being sure they read" Dominik says.
Another element of simplicity is changing the ink cartridges. Each of the HP print heads incorporates a cartridge that holds 42-milliliters of ink. The print head/cartridge combination is a snap-in snap-out configuration letting operators quickly change a head when an ink supply runs low. The software from RSI Print Systems includes a warning when an ink supply cartridge
is running low.
"What RSI did with this installation was to take a good thing and make it better." Dominik said in assessing how the installation is delivering in the plant.
The next step in the plant's evolution of the thermal inkjet system is to evaluate a bulk ink supply to extend the intervals between changes to replenish ink. (See sidebar for consideration on using a bulk ink supply.)
See sidebar to this article: Evaluating Bulk Ink Supplies to Drive Down Costs
Companies in this article